The Gottschallerhof, a family-owned German farm that has been operating since 1435, has switched to biocyclic and vegan management methods.
The farm stopped rearing livestock in 2000, when farmer Nikodemus Gottschaller became uncomfortable with slaughtering animals. Five years ago, he stopped eating meat altogether and now has a mostly vegan diet. The farm currently produces mainly pumpkin products and grains.

"Animal husbandry already is not capable of feeding humanity adequately."
The Gottschallerhof has been managed organically since 1986, and last year it joined the German Biocyclic Vegan Association. The farm's pumpkin seed oil is now certified by the organisation.
In 1995, Gottschaller opened an organic bakery, making bread with spelt and rye from the farm along with grains from other local producers. Almost all the bread is free of animal products, and Gottschaller hopes to gain another biocyclic vegan certification for the bakery.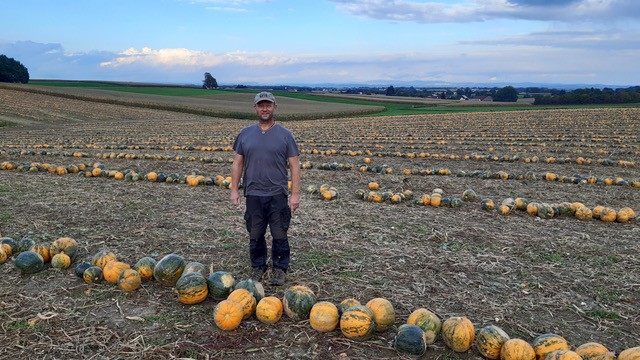 Biocyclic vegan farming
Biocyclic vegan agriculture involves growing crops organically with no animal inputs. Typically, crops are grown in rotation and specific plants (such as clover) are used to bind atmospheric nitrogen in the soil. These plants may also be mown and spread on the soil, removing the need for animal manure.
The farming method is rapidly growing in popularity worldwide. Last October, Belgian organic farm Bioboer Mark received the Biocyclic Vegan Quality Seal for its herb and vegetable cultivation, becoming the first in the country to do so. Canada's L'Acadie Vineyards and Sicily's Proverbio olive oil are also among those to use biocyclic vegan production methods.
"Organic farming will undoubtedly continue to grow," said Gottschaller. "The biocyclic vegan sector must also grow because, as everyone knows, animal husbandry already now is not capable of feeding humanity adequately. More people are starving than ever before. Our job is to show a way to do better."