The first ever PETA UK Farming Awards has taken place, recognising ten farms across the country for their contributions to ethical, animal-free farming. The winners include growers of seafood, a producer of soybeans for tofu, and a former beef farmer who sent his cows to a sanctuary.
The award winners are as follows:
Aweside Farm — A grower of organic edible flowers, leaves, and herbs. The farm is also working to create habitats for wildlife, such as ponds, meadows, and hedgerows.
IC Mushrooms — Producing oyster mushrooms, shiitakes, and more using sustainable raw vegan ingredients. Courses in mushroom growing are also offered at the farm.
Northwood Farm — A former beef farm, Northwood sent its cows to a farm sanctuary and now produces beans and grains using vegan organic methods. Northwood Farm became certified according to the Biocyclic Vegan Standard in October 2022.
Richard Cole and Tofurei — Farmer Richard Cole grows soybeans, which are then transformed into tofu-based foods by local producer Tofurei. The products — which include vegan cheesecake — can be sampled at the Tofurei cafe in Norwich.
Scilly Organics — A grower of organic fruits, vegetables, herbs, and flowers, which can be bought at the farm's market stalls.

© SHORE/PETA

SHORE Seaweed — a Scotland-based producer growing ten species of organic seaweed, which are then used to make products such as pesto, snacks, and ramen broths. Last November, SHORE raised a six-figure sum from its biggest shareholders.
The Artisan Grower — Growing vegan, organic, and seasonal crops such as microgreens using hand tools and simple technologies.
The Tomato Stall — Organic tomatoes grown on the Isle of Wight and delivered to customers.
Tolhurst Organic — The UK's largest vegan organic farm, which is also working to regenerate the soil and support wildlife. The farm offers fresh veg boxes to local customers.
Vertical Future — A vertical indoor farm that grows crops without herbicides, pesticides, or animal-derived fertiliser.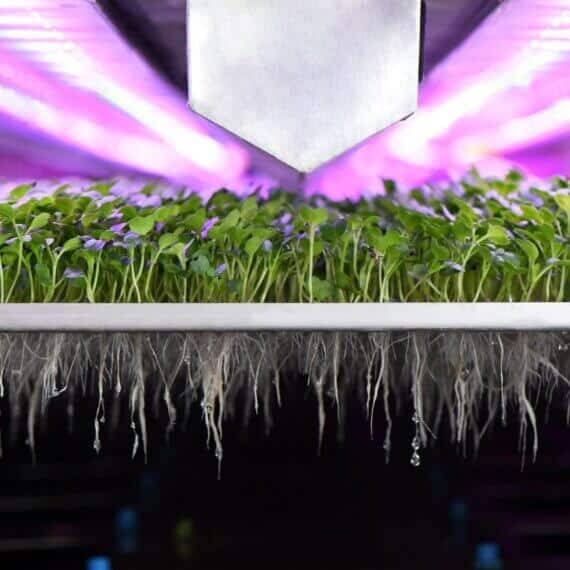 "Sowers of compassion"
PETA emphasises that vegan and organic farming methods benefit the planet as well as animals. This is supported by a report published last year, which found that replacing animals with plants could slash agricultural methane emissions. Other studies have found that enough plant protein is already produced to feed the entire world, but much of it is currently fed to farmed animals instead. In July 2022, WWF claimed that two-fifths of the UK's arable land is used to grow livestock feed.
"Everyone needs farmers, but farmers don't need to keep animals for meat, eggs, or dairy," said PETA UK on its website. "PETA has launched our first-ever Farming Awards to celebrate the farmers at the forefront of ethical, animal-free farming. We're delighted to recognise these sowers of compassion, and we encourage all farmers to grow plants and leave behind the heartbreak and violence of raising animals for food."