Scottish seaweed producer New Wave Foods has raised a six-figure sum from its biggest shareholders. The funding will be used to increase production and expand the company's SHORE range of seaweed-based products.
SHORE will begin by introducing two new ramen broths made with seaweed. Sold ready to heat in the flavours Miso and Chilli, the broths are said to be better quality than powdered or concentrated varieties. They will launch later this month via Amazon and some independent stores.
New Wave will also use some of the new funding to increase its production of Scottish seaweed, including at the company's farm in Oban.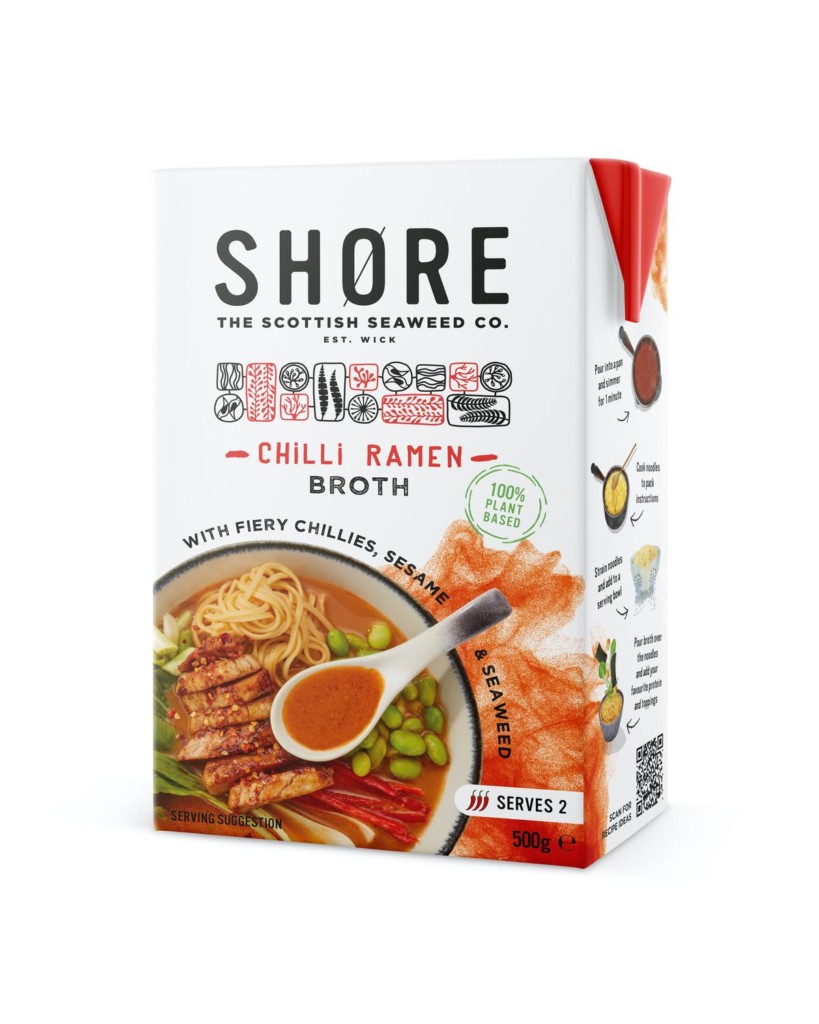 Seaweed chips
SHORE initially introduced its super-grain seaweed chips about a year ago. Currently available in the flavours Lightly Salted, Asian Peking, and Sweet Sriracha, a fourth variety — Smoky BBQ — is set to launch later in the month.
"We are delighted how well our SHORE chips are performing in the better-for-you snacking market"
SHORE's chips are already the best-selling non-potato bagged snacks in some regional supermarkets, and have recently gained listings at Morrisons, Holland & Barrett, and Booths. Following an update to their recipe, the chips are now fully HFSS-compliant. They also recently won the category "Best Food: Retail" at the Highlands and Islands Food & Drinks Awards 2022.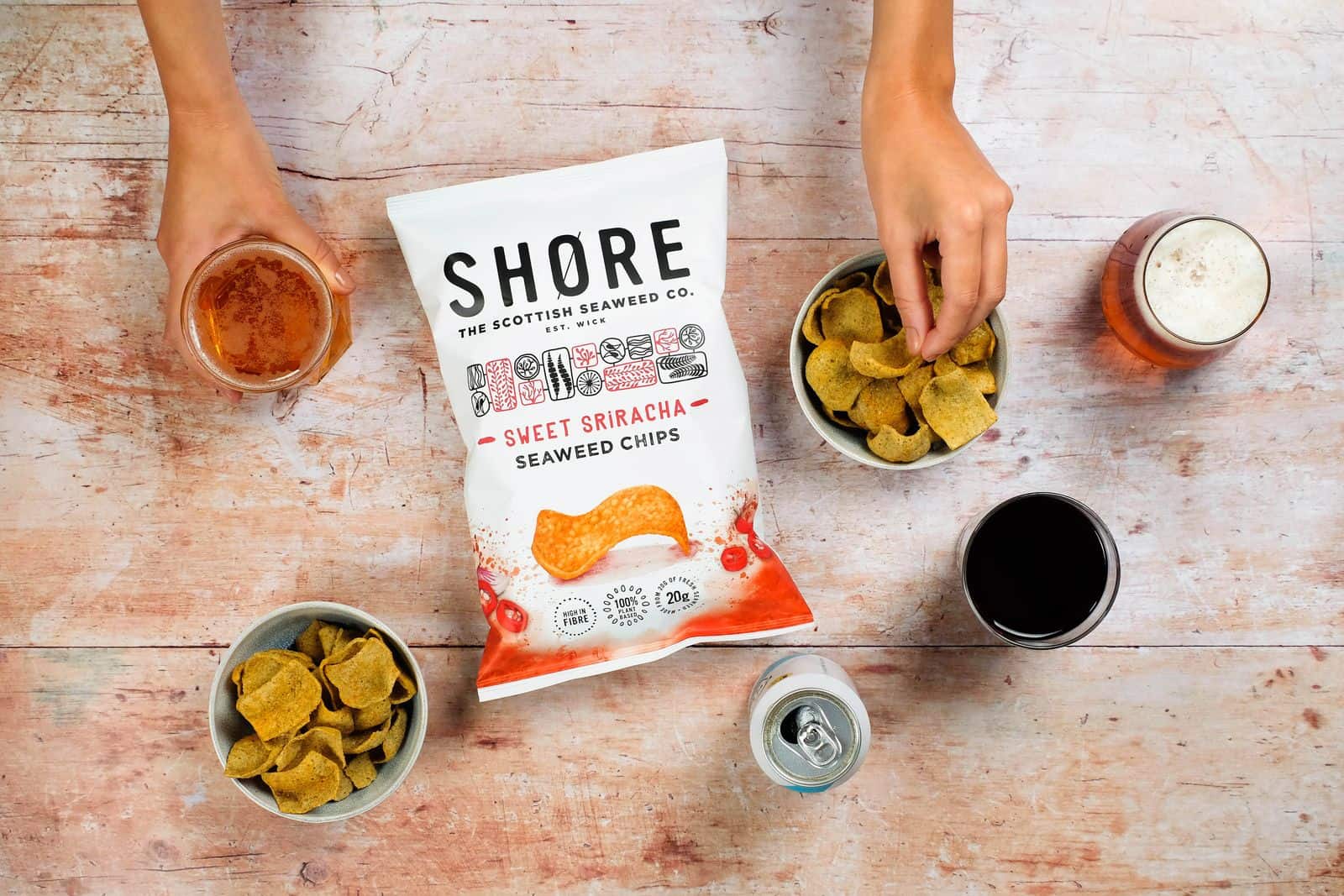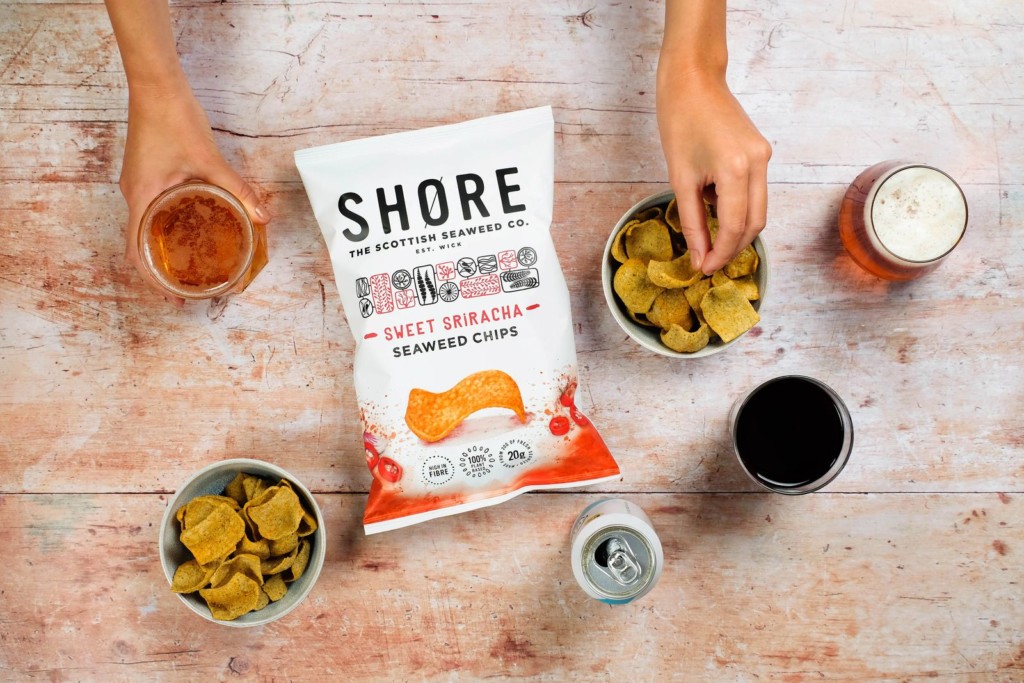 The seaweed industry
Historically eaten mostly in Asia, seaweed is growing in popularity elsewhere in the world, in part due to its sustainability — it requires no land, freshwater, or fertiliser to produce. A report earlier this year found that the amount invested in the industry grew by 36% to $168 million in 2021, while the number of new seaweed startups grew by 50%. The market for global algae proteins — a category that includes protein from seaweed — is expected to be worth $1.1 billion by 2026.
"We are delighted how well our SHORE chips are performing in the better-for-you snacking market," said SHORE joint managing director Keith Paterson. "We see a substantial opportunity to replicate what the brand has achieved in Scotland across the whole UK, with a HFSS-compliant snack that actually tastes great and has a proven leading rate of sale. We are also excited to be launching a delicious new plant-based ramen range, inspired by our own hand-harvested seaweed."