In the second of our new Expert Opinion section, ex-BBC broadcaster turned wine expert and CEO of Thomson & Scott, whose range includes the famous Skinny brand, discusses her opinion on the future trends in the market for alcoholic beverages. Will people eventually quit alcohol in the way that we are slowly, but surely, quitting meat….?
"It was not long ago that vegetarian options on menus were regarded as a quirk for the tiny minority of the consumer landscape who were seen as either politically motivated not to eat meat or had some potentially embarrassing digestive condition.  In the UK it tended to be a risotto or pasta dish, but in France for example, life as a vegetarian restaurant-goer consisted of goat's cheese salad or a protracted and often fractious conversation about what constituted a meat dish. Was "chicken acceptable, Monsieur?" No. N'importe quoi.
Over the last few years, with the dramatic increase in gym memberships, fitness apps, celebrity-endorsed vegetarian diets and mindful eating trends amongst younger consumers, the terms vegetarian and vegan have changed considerably. No longer scorned upon as the lifestyle of left-leaning, plastic sandal-wearing tree-huggers as was often levelled at anyone who didn't jump at the chance of a Sunday Roast at their local Beefeater; it is now a fashionable indicator of someone who is – for want of a better word – 'woke.'
Now, everyone seems obsessed with what's in their food – and rightly so. The sugar levels in mainstream food and soft drinks have caused outrage across the UK in recent years to the point that a Sugar Tax was introduced and impacts with good reason on many spurious areas of the food and drink industry. But one area where there is no spotlight being cast is on the wine industry.
For some reason, the mystery surrounding the production of wine has remained just that. Whether for romantic reasons or a lack of interest from food standards agencies, wine has continued to be sold unchecked. Wine labelling is at best poor, at worst alarmingly oblique.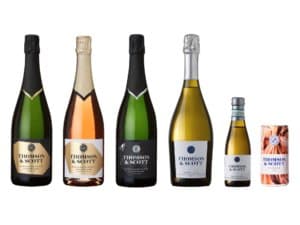 When we launched Skinny Champagne on the UK market in 2012, we wanted to make a controversial statement that would make people wonder what makes it skinny. "So, it's low sugar?" people would say. "Yes," we'd answer. When we explained that our wine was also vegan, many asked, "Isn't all wine vegan? It's just grapes and alcohol right?" Wrong.
At Thomson & Scott, we're now leading the global movement for transparency in wine and wine labelling. We want everyone to demand to know what's in their bottle. Though we dropped 'Skinny' from our branding in the UK to avoid being hampered by outmoded EU directives on nutritional claims in alcohol, we continue to spread the message that our bottles are vegan, organic and cut unnecessary sugar from the production process.
Our core demographic is mainly made up of young-minded female drinkers, though the male contingent is growing. What is most interesting to learn as we grow is the number of our customers who practice mindful drinking – buying purely produced wines with minimum intervention and simply drinking less, but drinking better.
We are already future-proofing our own business by introducing a de-alcoholised, vegan, organic sparkling wine to our range in the coming months to cater for the growing number of people who want their party to pop but not drink alcohol. Current options for non-alcoholic drinkers are dire in the wine space.
We know that alcohol may end up going the way of cigarettes. In Ireland there are already moves afoot to lock down budget binge drinking by introducing shutters on drinks cabinets in supermarkets at certain trading times. It won't be long before stronger warnings will be introduced to wine labels. Also, if the advent and explosion of vegetarian and vegan lifestyles in the UK says anything, it indicates that consumers are prepared to switch their diets overnight for the sake of knowing what they're digesting.  They may do the same with the bottle on their table.