Brenntag Food & Nutrition, a leading provider of food ingredients worldwide, has announced a new business collaboration. The company will be working with Axiom Foods, a provider of dietary inclusive plant-based ingredients, to help it meet the growing demand for plant-based foods in the USA and Canada.
Previously, Brenntag Food & Nutrition partnered with Axiom Foods to distribute Axiom's products in Europe, the Middle East, and Africa. Now, Axiom is set to collaborate with Brenntag's North American business unit to extend distribution to the USA and Canada.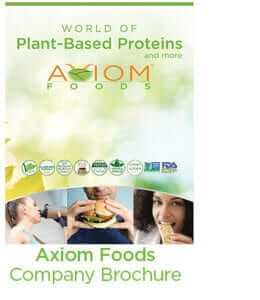 Brenntag Food & Nutrition has a reputation for partnering with leading ingredient suppliers to meet the needs of its customers internationally. The company aims to strategically expand its portfolio to keep up with dietary trends. Plant-based diets are gaining in popularity worldwide, and the demand for animal-free protein sources is forecast to double by 2029.
That makes Axiom Foods an ideal partner. The company manufactures a variety of plant-based products, including a range of protein and milk-replacement powders. These products can be used in protein shakes, smoothies, dairy alternatives, and more. The company uses proteins from a range of sources, including rice, pea, hemp, and sacha inchi. Its products are certified vegan, gluten-free, non-GMO, and kosher.
"Axiom's product line is an exciting addition to our product portfolio as it helps meet the growing demand for meat and dairy alternatives," says Larry Davis, vice president of Brenntag in North America. "Our customers will greatly benefit from the combination of Axiom's plant-based proteins and our dedicated sales and technical teams."