US-based cultivated seafood company BlueNalu has announced extended and improved partnerships with three prominent seafood APAC industry leaders: Japan's Mitsubishi Corporation, South Korea's Pulmuone Co. Ltd., and Thai Union.
The expanded collaborations include independent Memorandums of Understanding with each company to support BlueNalu in developing market strategies to launch its sustainable cultivated bluefin tuna in the region over the coming years.
"Our ultimate goal (is) to provide our customers with healthy and trusted seafood options that have superior product benefits and align with evolving market conditions"
The strategic partners will support the biotech in three areas including market research on consumer preferences, emerging trends, and evolving market dynamics. It will also help expedite the approval process of regulatory requirements and support market entry, distribution, and supply chain management strategies to introduce BlueNalu's products to consumers, food service, and retailers across the APAC region.
Lou Cooperhouse, president and CEO of BlueNalu, shared: "We are honored to deepen our collaborations with Mitsubishi Corporation, Pulmuone Co. Ltd., and Thai Union, visionary partners who share our commitment to driving innovation and shaping the future of the seafood industry."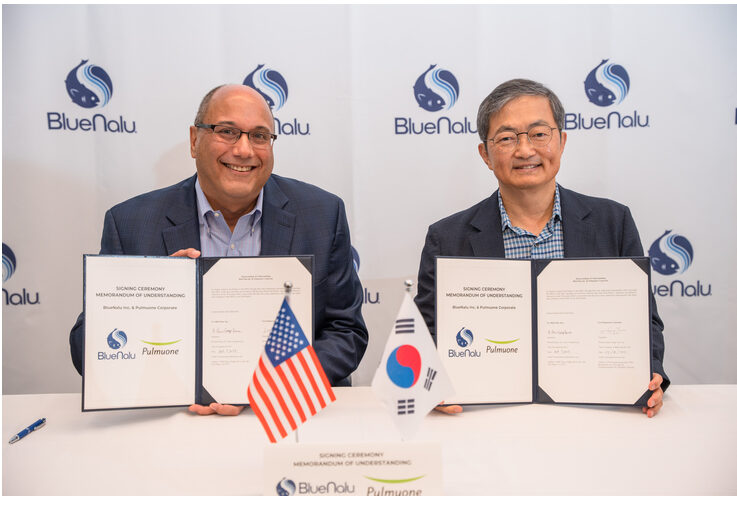 Healthy seafood options
As seafood consumption continues to grow, especially in Asia, commercializing sustainable seafood is a solution to meet rising demand. According to BlueNalu, Asia consumes 80% of the estimated global supply of bluefin tuna. Unfortunately, these fish populations have drastically declined due to overfishing and illegal and unreported fishing (IUU).
BlueNalu's mission is to develop high-quality cell-based products, starting with premium cultivated toro (the high-value portion of bluefin tuna) to support the sustainability and diversity of oceans. The food tech claims it has developed a non-GMO, single-cell suspension line and proprietary lipid-loading technology capable of cultivating seafood at a scale. With Nutreco, a global leader in animal nutrition and aquafeed, the biotech aims to establish a food-grade supply chain to fuel its cell platform.
"These extended partnerships in the APAC region underscore our dedication to working collaboratively with local experts in each region that we target, and our ultimate goal to provide our customers with healthy and trusted seafood options that have superior product benefits and align with evolving market conditions."