The chain's Bathurst St and Sheppard Centre locations are now offering vegans and omnivores alike the chance to eat healthy at nearly any hour.  Copper Branch is also  considering adopting the late night strategy at more locations.
The Montreal-based chain, which is now the largest plant-based restaurant chain in the world, has announced that two of their key Toronto locations are now open past midnight seven days a week. Their Bathurst and Sheppard Centre stores will now feature their full menus well past the time any other healthy or plant-based restaurants have closed for the evening.
Copper Branch's location at 410 Bathurst St is open until 2am seven days a week and their restaurant at the Sheppard Centre is open Thursday through Saturday until 2am and Sunday through Wednesday until 1am.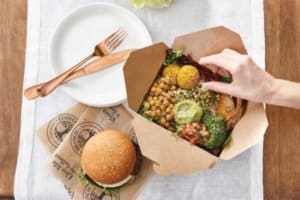 "Customer response to these two locations staying open late has been incredible," says Copper Branch Global Director of Marketing, Andrew Infantino. "Our customers love that they can replicate their late night favorites such as burgers, Buffalo wings, nachos, and even poutine in an all-natural, healthy version when they're out late in the city."
The Copper Branch chain operates over 60 restaurants worldwide with a focus on global food and healthy eating. Though the entire Copper Branch menu is vegan, the company has found that the vast majority of its customers are not strict vegans, but rather omnivores who want to replicate the delicious foods they currently enjoy but in a healthier, more ethical and sustainable way. "This is food I'm proud to have my children eat" adds CEO Rio Infantino. "Now our customers can do so at any hour, which is exciting for the industry and for the company."