Good Source Foods announced yesterday its official launch with a line of mindful snacks which release nutrients at the right time of day. The new brand debuts with three snacks, made with all-natural dark chocolate and plant-based protein.
Each snack contains tailored ingredients added for functional benefits targeted to a certain time of day. For example, ginger root for morning brain function, cayenne pepper for an afternoon metabolism boost, and lavender powder for nighttime calming.
"Our better-for-you snacks are made with simple ingredients that offer functional benefits for the times of day when most people need a healthy snack," said John Byrnes, Co-Founder and CEO of Good Source Foods. "They're intentionally tailored for consumption in the morning, afternoon and evening. Consumers will feel satisfied, nourished and, hopefully, inspired to make good snack choices every day."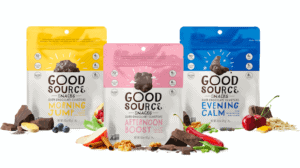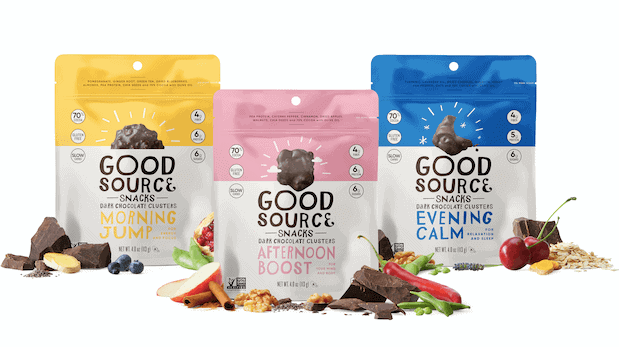 Americans consumed 386 billion ready-to-eat snacks in 2018, and snacking is currently trending. With these trends in mind, Good Source aim to redefine the better-for-you industry by creating mindful snacks that are portable, flavorful, and made from simple ingredients to imitate fresh food.
"We're targeting a mid-range glycemic index to help avoid the highs, lows and crashes that so many of us experience when we eat conventional snacks," said Scott Repinski, Co-Founder and Food Scientist. "The combination of low-sugar, high-protein, and soluble fiber creates slow-metabolizing carbohydrates that give our bodies more energy over an extended period. Fresh, whole foods are always best, but when fresh is not possible, our Good Source snacks are a smart choice."
The initial snacks in the brand's lineup includes:
Morning Jump Dark Chocolate Clusters:Skip the morning sugar rush. Made with the right ingredients for energy and focus to give you a much-needed jumpstart. Superfood ingredients tailored for morning include ginger root to help with brain function, chia seeds packed with high-quality fiber, protein and omega-3 fatty acids, and green tea for energy without the crash or jitters.
Afternoon Boost Dark Chocolate Clusters: Recharge with a mindful snack made with the right ingredients for mind and body to prevent afternoon meltdowns. Tailored day-part ingredients include dried apples for fiber to fill you up and keep you satisfied, antioxidant-rich walnuts to support a healthy mind, and cayenne pepper to boost metabolism and reduce appetite.
Evening Calm Dark Chocolate Clusters: Chill out with a snack that supports relaxation and sleep before your head hits the pillow. Ingredients tailored for evening consumption include dried cherries, a natural source of melatonin to aid sleep time and quality, lavender powder for its calming effects, and turmeric with powerful anti-inflammatory and antioxidant properties to prepare your mind and body for a healthy dose of shut-eye.
Good Source Foods is partnering with forward-thinking retailers who focus on providing their customers with better food choices. The brand has a strong innovation pipeline, with plans to break into additional categories in the better-for-you industry in the near future.