Impossible Foods, maker of the Impossible Burger, received the 2019 UN Global Climate Action Award for Planetary Health. This award is given to only 15 organizations around the world and is intended to highlight the most practical examples of what is being done globally to combat climate change. 
This recognition coincides with Impossible Foods' worldwide grocery store debut on the East Coast and Southern California, the UN Climate Summit in New York, and climate protest marches around the world. 
Creating a more sustainable food system is core to the international architecture of progress on climate change. Dietary shifts to plant-based alternatives have long been recognized as a necessary component.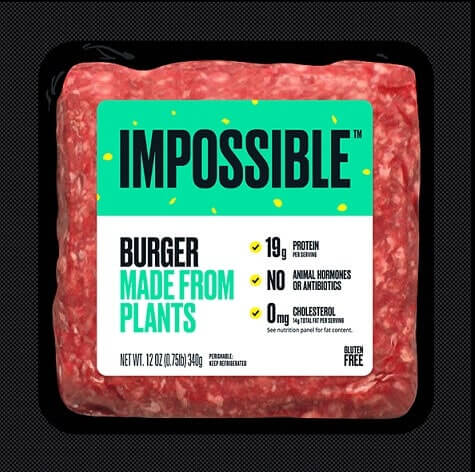 Though made from plants, the Impossible Burger tastes, smells, looks, and cooks, just like ground beef from an animal, making it a climate tool that can be deployed at a global scale while requiring no behavioral changes or compromise. Each pound of Impossible Burger substituted for beef from a cow spare about 30 pounds of carbon equivalents and nearly 300 less square feet of land. Land that could be used for carbon capture by trees and grasslands.
The 2019 United Nations Global Climate Action Awards are part of the broader effort to mobilize action and ambition as national governments work toward implementing the goals of the Paris Agreement and the Sustainable Development Goals.
Impossible Foods' mission is to transform the global food system to support the planet and growing human population. The company's goal is to replace animals as a food production technology by 2035 and provide consumers with plant-based meat, fish, and dairy foods that are good for both people and the planet.
"Announced amongst the backdrop of nations signaling their renewed determination to meet the goals of the Paris Agreement, these awards shine a light on 15 incredible examples of scalable climate action around the world," said Patricia Espinosa, Executive Secretary of UN Climate Change. "These inspiring examples of climate action serve as beacons, guiding us towards a more resilient, more sustainable, and more prosperous future for all."
"This award is a great honor and highlights the importance of Impossible Foods' mission to restore biodiversity, spare natural resources and reverse climate change by providing a nutritionally and functionally equivalent to the most inefficient part of the food system," says Jessica Appelgren, Vice President of Communications at Impossible Foods. "We are thrilled to be given the opportunity to connect that mission to the implementation of the Paris Agreement and the UN Sustainable Development Goals, alongside the impressive list of fellow award recipients at the upcoming COP summit in Chile."