Having recently rebranded and introduced new lines, Just Wholefoods made quite an impression on the judges at the recent Midcounties Co-operative 'Food Glorious Food' competition. Farmer and rural TV presenter Adam Henson and Celebrity Master Chef winner Phil Vickery were full of praise, not just for the new look but also the taste of the organic fruit jellies, organic falafels and chilli noncarne made with its organic Sunflower Mince. Thanks to its successful pitch, Just Wholefoods has secured a listing in 52 of Midcounties food stores in Gloucestershire.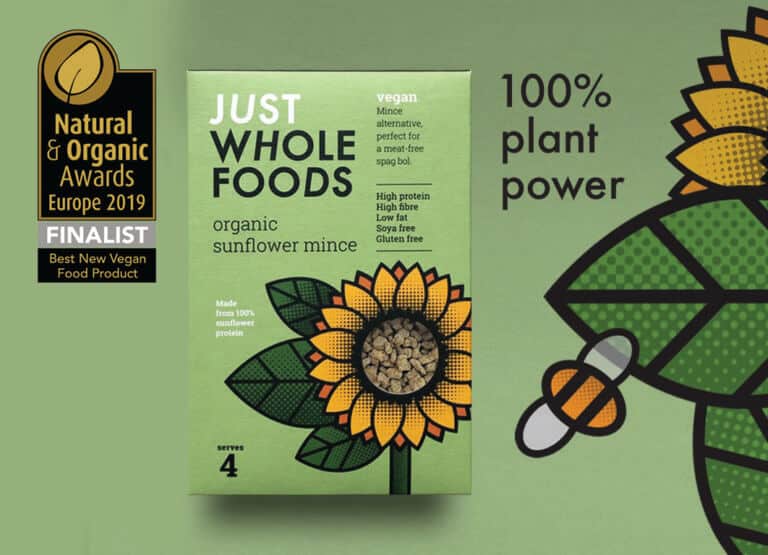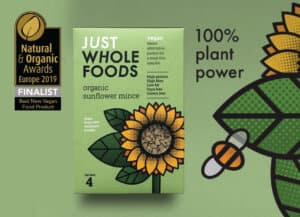 Organic and vegan, Sunflower Mince is Just Wholefoods' latest product. Not just any ordinary mince alternative, it is already proving to be a success having been voted a finalist in the Natural & Organic Products Showcase. Thanks to Just Wholefoods' successful LIVE pitch delivered at the Natural & Organic Products Show, Sunflower Mince has gained a listing with Holland & Barrett, one of the UK's biggest retailers.
Sunflower Mince is no ordinary mince alternative. Made solely from organic sunflower seeds, this store-cupboard essential is packed with 51% protein and 20% fibre and is as easy to prepare as soya mince. The ingredient is suitable for several dishes such as classic Bolognese, chilli and lasagne, to stir-fries and fajitas. Sunflower Mince is free from all the top 14 allergens and made from a highly resource-efficient, organic crop. A truly sustainable source of protein.