French startup La Vie, well known for its next generation plant-based pork products, this week celebrates a year of successful operations, from record fundraising, multiple awards and successful partnerships with restaurant chains in France and throughout Europe.
Yesterday La Vie announced the launch of celebrations on its social networks, reaffirming its mission: to bring together all consumers with its healthier, more sustainable and pleasure-filled alternatives to intensive farming.
Here we list the startup's incredible achievements over the past year.
October 4, 2021: Official launch of La Vie™ at the SIRHA in Lyon, after 3 years of R&D and more than 5,000 recipe trials.
October 2021: Plant-based lardons climb to the top of the podium at the Plant Food Trophies. Prior to this victory, La Vie had already won the Special Jury Award at the Golden Snacking Awards, the Unilever Global Innovation Award 2021 and the Best Plant Based Bacon Award at PBWE London.
November 2021: La Vie plant-based lardons land on all Carrefour hypermarket shelves and reached the Top 5 best-sellers in the meat-free aisle with average sales reaching double the expected results.
January 2022: La Vie announces a record €25 million Series A fundraising round from investment funds and international celebrities like Natalie Portman and the CEOs of Vinted, Blablacar, and Back Market.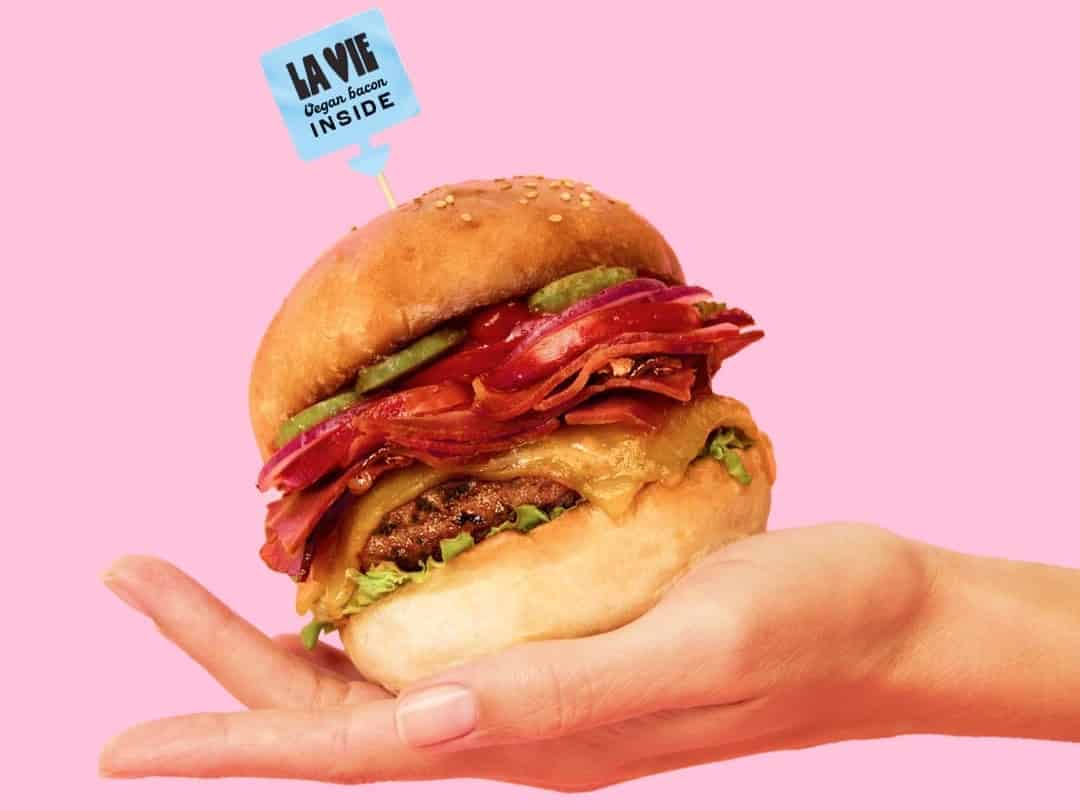 February 2022: La Vie participates in the Salon International de l'Agriculture to present its alternative to intensive livestock farming to the French. The startup attracts 50,000 visitors for 25,000 tastings of vegetable bacon and lardons.
March 2022: "It's a Jew, a meat-eater, a Muslim and a vegan at the same table. And it's not a joke". Signed by Buzzman, this first national advertising campaign illustrating the brand's mission won silver at the Grand Prix Stratégies de la publicité 2022.
May 2022: After joining the menu of the UK's first 100% vegan Burger King, La Vie veggie bacon is chosen by Burger King France as the flagship ingredient for its new Veggie Steakhouse. On this occasion, La Vie appears for the first time on French television in a commercial featuring this new recipe, which is ranked number one in the fast food chain's veggie sales.
July 2022: La Vie denounces the relentlessness of the intensive pig farming lobby in France through a summer saga on social networks (viewed more than 6 million times) and in print advertising. The startup also opposes the decree banning names borrowed from animal meat for plant-based protein alternatives by going to the Council of State. Victory is achieved, for now, when the decree is then suspended.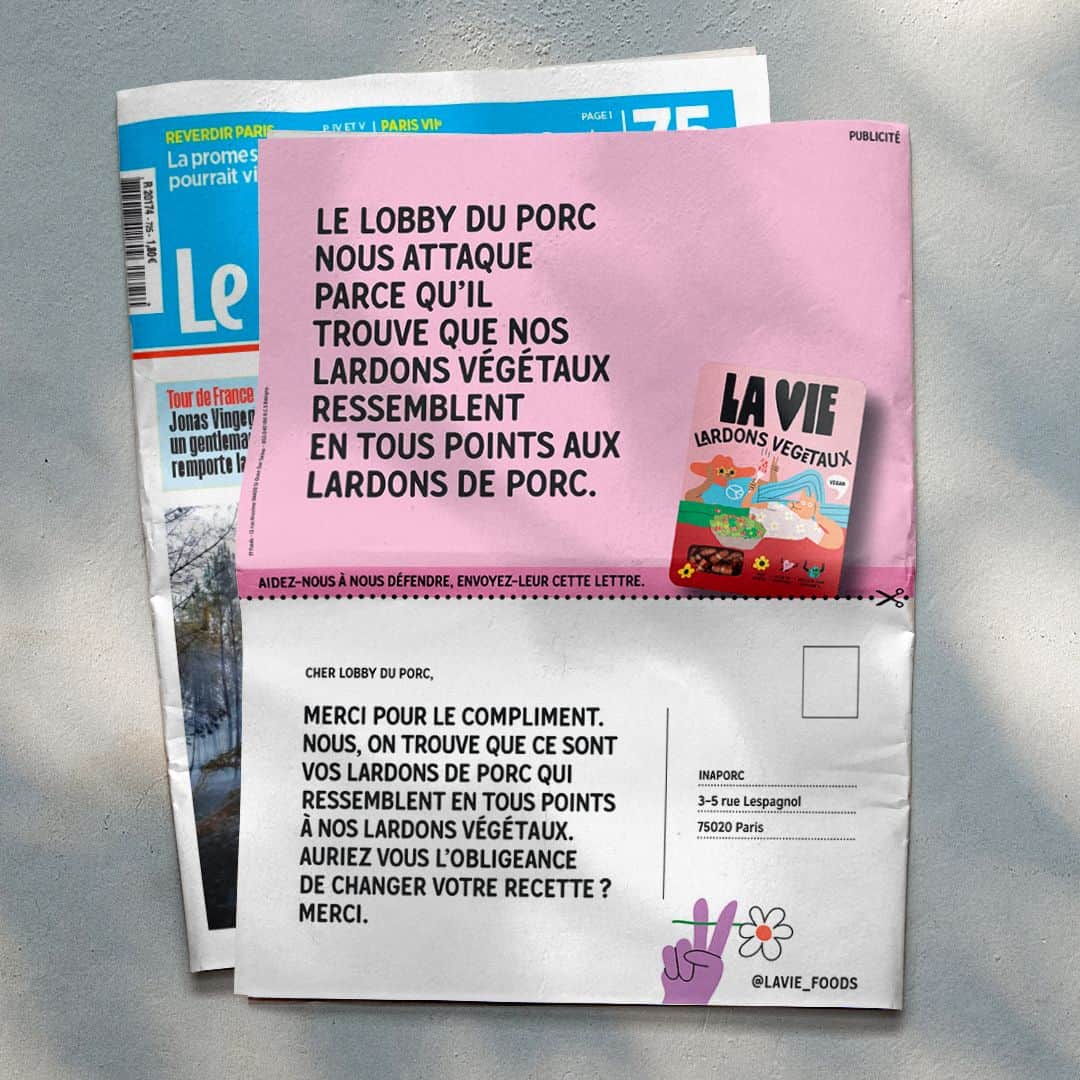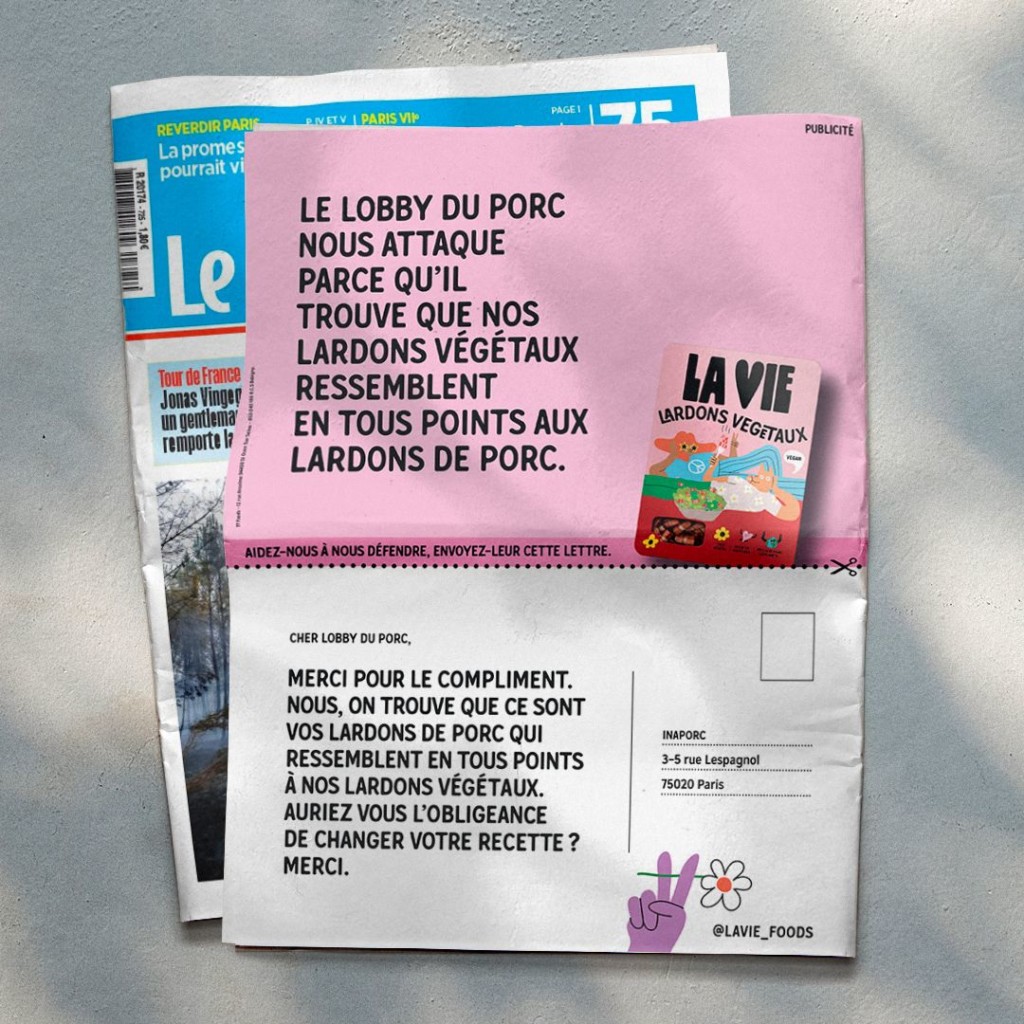 September 2022: After having seen great success in restaurant chains, La Vie plant-based bacon finally makes its appearance on the shelves of French supermarket chains as well as in several European countries including the UK, the Netherlands and Switzerland.
Today, La Vie is present in all of France's supermarkets, and in 12 partner restaurant chains, including Burger King nationally. The startup now enjoys a presence in six European countries, having already carried out five advertising campaigns in France, the United Kingdom and the Netherlands. The rest of the story is yet to be written.