The rise in vegan services continues to grow steadily around the world, with London especially becoming a hub for plantbased businesses, including a vegan recruitment agency, vegan temping, vegan coworking space, vegantech search filter, vegan delivery app, and even a vegan business bootcamp. Following in this vein, Keith Lesser is an accountant working with various plantbased firms and looking to increase his green business clientbase.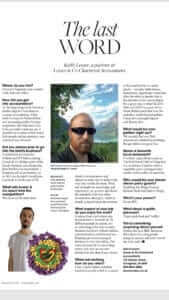 Lesser & Co Chartered Accountants and Business Advisors in Chingford was established in 1988, offering a high level of expertise and experience to guide clients through their accounts and financial aspects of their business in a straight forward manner. Over the past three years Keith has been looking to gear his business towards vegan clients.
"Since the Feel Good Café became a client (rated number 6 café in London), I became more interested in veganism and after watching What the Health on Netflix and experiencing two clients passing away from heart disease and cancer, I became vegan and over time have grown our vegan client base as well as my vegan network. We now have many vegan clients and this is growing all the time."
For information @theavocadoaccountant on Instagram or email [email protected].