Husband and wife team Mitch and Shirin Lee are on a mission to share their delicious plant-based meals with the UK. Chef Mitch originally began his cooking career in vegan restaurant Offbeet, which inspired him to try Veganuary, which eventually led to the birth of the concept for his new vegan delivery service Mitch's Kitchen.
Mitch's Kitchen produces a range of home-cooked frozen ready meals which are shipped across the whole of the UK. They are 100% vegan and free from gluten, nuts, palm oil and pesticides. All packaging is also fully recyclable and the company aim to create a process which is as environmentally friendly as possible from start to finish.
Mitch says of his new enterprise; "As a gluten-free vegan myself, I know how limiting food choices can often be. That's why I've hand-crafted an exciting, flavour packed range of fast-paced plant-based meals.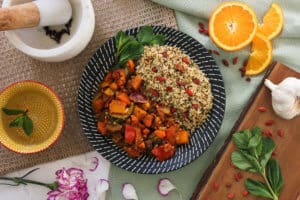 "Living a busy lifestyle shouldn't mean sacrificing health, taste or the environment, and that's where our meals come in. All our food is packaged in 100% recyclable materials and delivered using a carbon-neutral courier.
"Our focus for 2019 is to increase the number of stores stocking our food, increase the range of meals, snacks, desserts and products we offer, and to finally open people's eyes up to the fact that plant-based food can be enjoyed by everyone, not just vegans!'"