Motif FoodWorks, a Boston food tech company, is partnering with microfluidics company NemaLife to utilize the latter's platform for in-vivo testing and protein characterization. Motif also invested in NemaLife for an undisclosed amount. Motif states microfluidic screening is new to the food and beverage space and can help quickly identify Motif's next food tech breakthrough.
"NemaLife's screening technology could open the door for not only Motif, but the entire food and beverage industry"
Using an AI-assisted microfluidics screening platform, NemaLife is able to test and categorize bench-scale proteins using only a fraction of the sample size typically required for ingredient testing. By effectively screening small amounts of ingredients in a matter of weeks, Motif will be able to de-risk and accelerate its product pipeline to create safe and functional food technologies, it says. NemaLife's streamlined screening platform will also help Motif to generate products that outcompete current animal-free proteins on taste, texture and nutrition.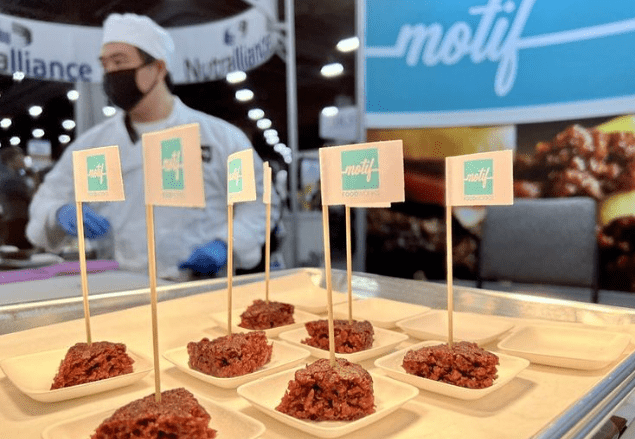 The news marks positive progress for Motif as it continues to dispute claims of patent infringement alleged by alt-protein competitor Impossible Foods. In March 2022, Impossible accused Motif of copying and unlawfully selling its patented heme technology, which gives Impossible Burgers their famed meaty taste. A court order has blocked sales of Motif's allegedly infringed heme product as Motif vows to fight the accusations.
Long-term product potential
"The long-term potential of NemaLife's screening technology could open the door for not only Motif, but the entire food and beverage industry," said Stefan Baier, Motif's Head of Food Science. "Identifying the most viable proteins from precision fermentation is not enough. We need to understand how these animal-free equivalents might perform as food technology. Using NemaLife's AI-assisted microfluidic screening platforms will provide an early assessment that ensures a protein has the right functional characteristics and in vivo performance on its own and during formulation."