TIME Magazine has unveiled its list of the 100 Most Influential Climate Leaders in Business for 2023, recognizing individuals who have demonstrated substantial contributions to the fight against climate change. The selection process, conducted over several months by TIME's editors and in-house climate experts, prioritized measurable achievements within the energy, nature, finance, culture, and health sectors.
"We felt, and still do feel, pressure to scale our impact — for the people, animals, and planet we serve"
Among the listed figures is Josh Tetrick, CEO of Eat Just, credited as the first company to receive regulatory approval for lab-grown meat under the brand GOOD Meat. Eat Just is the only alt protein company represented on the list and one of the few recognized companies within the food and beverage category.
In statements to TIME, Tetrick emphasized the pivotal role of the food system in addressing climate change. He advocated for sustainable and environmentally friendly dietary choices, particularly emphasizing the need to transition away from traditional factory farming practices due to their significant contribution to greenhouse gas emissions.
Despite Tetrick's visionary approach, recent reports have highlighted financial challenges within Eat Just, citing concerns about financial management and the imperative for consistent execution of a break-even plan. In response to these claims, Tetrick told vegconomist, "We felt, and still do feel, pressure to scale our impact — for the people, animals, and planet we serve. Moving forward requires consistent, daily execution of our break-even plan – as well as a longer-term vision to build a food system that is less harmful to animals and our planet. "
Strategic investments and sustainability initiatives
Eat Just recently concluded a strategic investment round in September, led by VegInvest and Ahimsa Foundation. The funds were allocated to the GOOD Meat division and JUST Egg, facilitating the introduction of sustainable packaging solutions, including a new cardboard carton for JUST Egg, which is currently being rolled out in the US.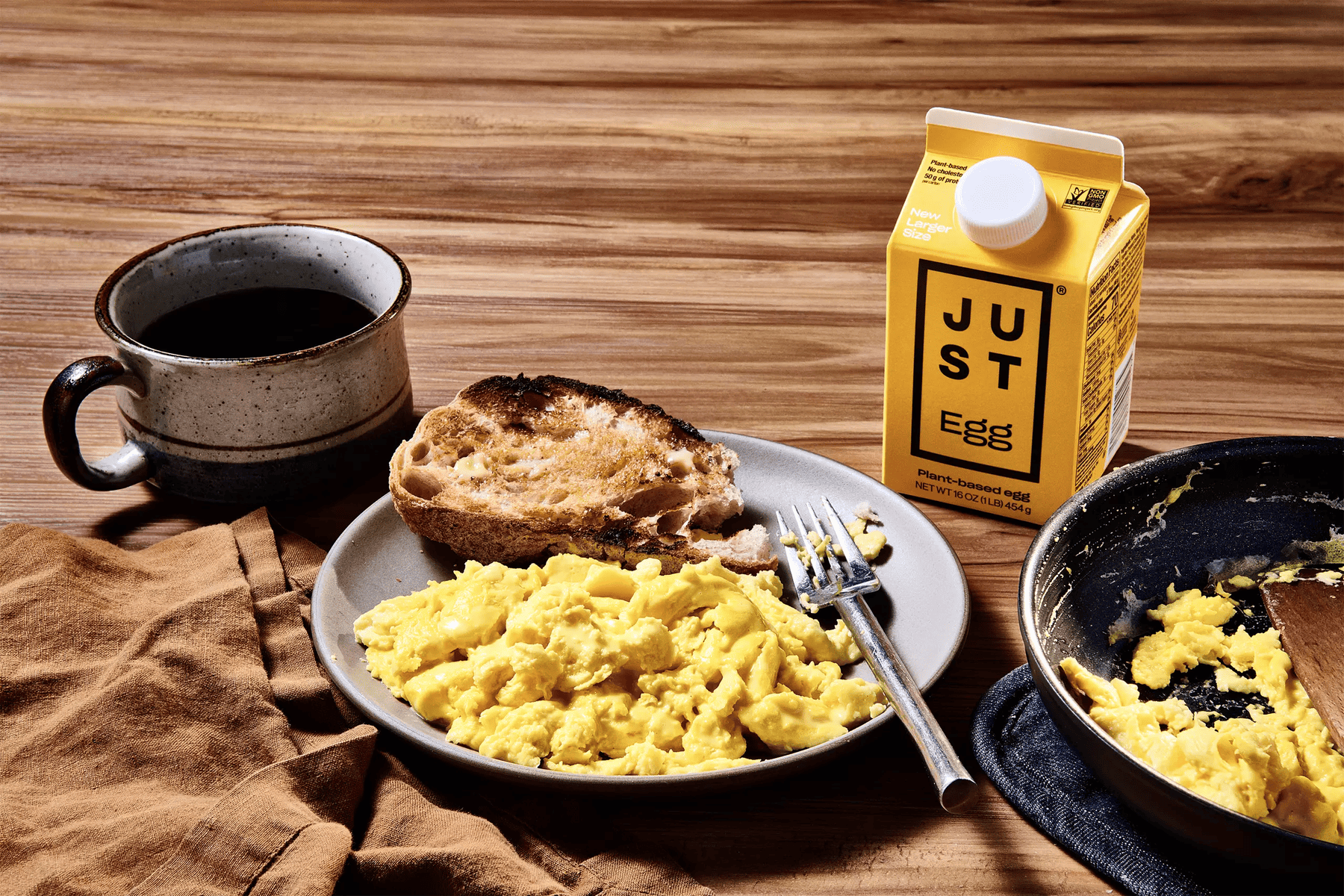 The investment followed a substantial layoff at the beginning of the year when Eat Just cut 18% of employees in the JUST Egg division. Tetrick stated that its JUST egg offerings are not currently profitable, despite holding over 99% of the plant-based egg market in North America. This initiative is set to reduce costs alongside other efforts like consolidating operations, increasing production efficiency, and lowering ingredient costs.
Industry's impact
Tetrick's recognition on TIME's list highlights the crucial role of the food industry in shaping a sustainable future. He concluded to TIME, "As much as I wish human agency and will would get us there, I think we all have to be aware that we are all imperfect and sometimes you need to meet folks where they are. Cultivating meat is in its early days, and more attention and funding are needed to accelerate its rise to the top of the system of meat production."
Find the full list of TIME's 100 Most Influential Climate Leaders in Business for 2023 here.