Israeli startup Plantish, which set out in 2021 to transform the plant-based seafood category with whole-cut plant-based fish, announces it is rebranding to Oshi ahead of the launch of its salmon into US restaurants later this year.
The company also announces a collaboration agreement (an MoU) with Coop to roll out its whole-cut salmon, initially in the Swiss country (touted for 2025), and later expand into other EU nations.
"The name "Oshi" symbolizes the ocean, which is a vital part of our planet"
"The name "Oshi" symbolizes the ocean, which is a vital part of our planet and a source of inspiration for us. We believe that by crafting plant-based seafood that is "Better Than The Reel Thing," we can offer delicious alternatives while actively working towards restoring the health and sustainability of our oceans," Ofek Ron, CEO and co-founder of Oshi, told vegconomist.
"We wanted a brand that not only represented our mission but also conveyed our passion for transforming the ocean for good," he added.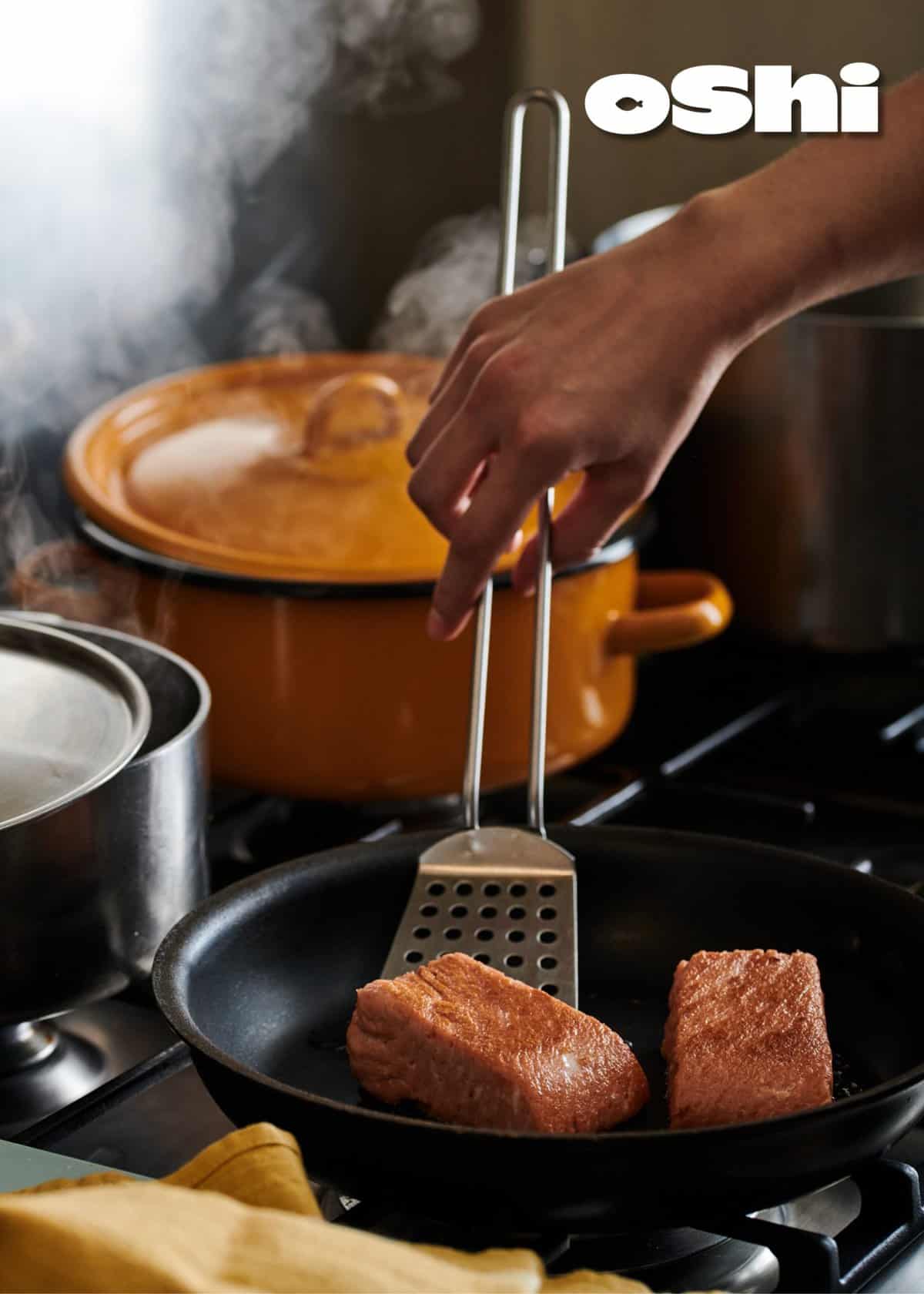 New seafood
Oshi was founded as Plantish in 2021 to develop alt fish whole cuts, starting with salmon, using patent-pending additive technology that allows production at scale with lower costs.
3D printing gives the fish pieces an authentically fibrous structure that replicates muscle tissue layers. To create its salmon alternative, Oshi combines legume proteins and algae extract to make a high-protein product rich in omega-3 fatty acids.
In March 2022, the company raised $12.5 million in a seed funding round led by State Of Mind Ventures, claimed as alt-seafood's "largest ever" seed round. According to Oshi, it has successfully raised $14.5 million in funding to date, with notable investors like Unovis, which has backed companies like Beyond Meat and Oatly.
"Our long-term vision involves expanding our product offerings into new kinds of products which do not mimic any specific fish but create new kinds of seafood offerings," Ron told vegconomist.