Chefs Gavin Cassidy and Eoin Lennon created vegan sauce company Porter & Nash after identifying a lack of choice in sauces and gravies suitable for vegans that offer both health benefits and flavour. What sets these products apart is the use of the nutritional powerhouse kombu seaweed.
After an initial investment of €55,000, the Irish startup has recently been approved for EI competitive start funding. Porter & Nash aim to reach €250,000 to expand and to export internationally with the first market being pinned as Germany.
The products, which are gluten-free, have no fat and are low in salt and sugar and can be used as a cooking liquid or as a normal pouring sauce, are aimed both towards home cooks and the food service sector and are currently available in Ireland.
The secret ingredient is harvested from the waters of the west coast of Ireland, and is said to offer a rich umami flavour. "The products have the appearance and texture of a meat based gravy or sauce and while they are aimed at vegans and vegetarians they are equally suitable for meat eaters," said Gavin Cassidy to The Irish Times.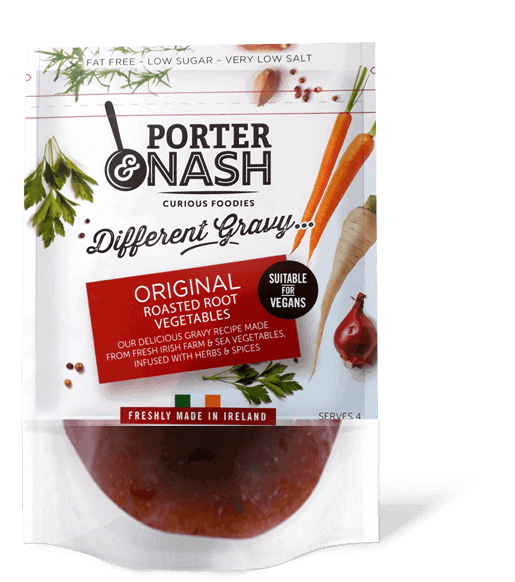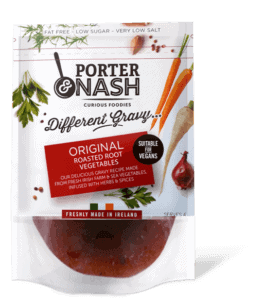 "The volume of plant based products coming onto the market is growing but these products are often criticised for being dry and lacking in strong flavour. Our sauces can elevate them to a whole new level and will be of particular interest to nutritionally conscious but time poor consumers who are looking for a flavour lift for their daily dishes. They will also appeal to the home cook who wants to introduce a depth of umami flavours, a variety of nutrients and add a professional look to their dishes when entertaining."
The first three of a range which will eventually consist of nine products are: Roasted Garlic and Thyme Gravy, Roasted Veg Sauce, and Caramelised Onion and Balsamic Sauce. The sauces are made in-house but the founder chefs say they are working towards oursourcing as a next step of scaling up production.