In the next of our series introducing the latest cohort in the ProVeg incubator program, we have Mister Veg, an Indian brand providing plant-based alternatives to both meat and seafood. With their special technology, Mister Veg turns grains into meaty tasting products while preserving its nutritional value.
What makes this company unique is its strong R&D team, which has developed special-purpose machine technology to create plant-based food and ready-to-eat meals with no preservatives and a one year shelf life without loss of taste or nutritional value.
What is your product or service category?
We are producing plant-based meat and fish.
What is your startup's USP?
We are India's first producer of the plant-based fish pomfret. The unique texture of our plant-based meat and fish products allows them to be used flexibly as alternatives to conventional animal-based foods. Our products also have a high nutritional value at affordable prices across a range of categories including a range of ready meals.
Which product or service you offer?
We offer plant-based meat and fish for use as base ingredients in recipes as well as a range of ready meals.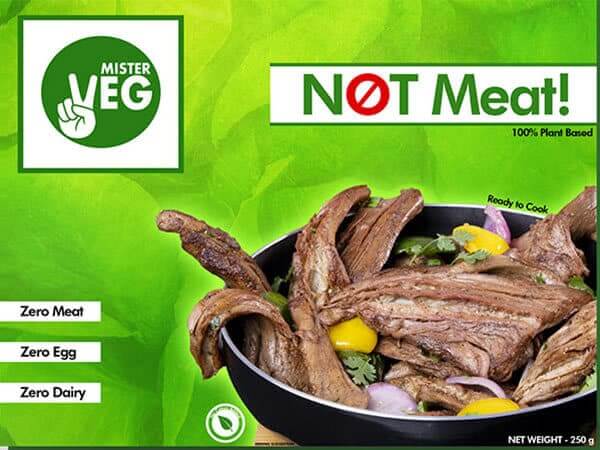 What stage is your company currently at?
R&D done, product developed, our planning was to do B2B for some tons to see genuine reviews and acceptance of our products, it has been successfully done.
What do you have planned for the next 12 months?
Scale up the factory in the next 3-4 months. After that, the product line will be rolled out in India before the autumn of 2020 with several products. We then plan to launch a new product every three months from an already developed list. Mister Veg then plans to expand to other countries while also developing a wider product range using innovative technology.
---
ProVeg has just opened a call for entries, inviting startups to join the next (fifth) cohort at the Incubator programme. Details as below.
The world's leading Incubator for plant-based and cultured food startups has opened for applications to join its global accelerator programme.
ProVeg Incubator supports pioneering companies that are transforming the global food culture by developing innovative alternatives to animal-based products and services.
Startups that are accepted to join the Berlin-based Incubator, will have access to a three-month, tailor-made programme, with potential funding of up to €200,000, one-on-one expert mentoring, and access to our international networks of food industry contacts.
Since its launch in November 2018, the ProVeg Incubator has worked with 40 startups from 20 countries, helping them to raise more than €9 million and launch over 40 products.