Quorn Foods yesterday announced its annual results for 2018, reporting steady global sales growth of 7% to £220m, as it continues to benefit from the rising trend for veganism and plant-based meat alternatives. US sales expected to grow by 45% in 2019 as demand for plant protein continues to rise globally.
The company´s profits fell from £32m to £27m as the business committed £5m of investment into research and product development initiatives, and growth was limited materially by a factory fire in June. However the announcement marks a period of sustained growth from 2016-2018, which saw demand grow by 35%. In addition, increased uptake in the US market set to drive further expansion, with 45% growth in US sales predicted by the end of 2019
In the final quarter of last year, Quorn opened a new production facility, which the company described as the world's biggest alternative meat production factory, which doubles capacity with an added 20,000 tonnes every year. An investment of £150 million enabled the production of 1.33 million units of Quorn products per week, the equivalent of 1,600 cows.
Success with new vegan products
Quorn Foods launched several successful vegan products in 2018. January 2018 saw the launch of the Quorn vegan smoky ham-free and vegan chicken-free sandwich slices – which were the two biggest new vegan products in UK grocery in 2018 –  followed by the hugely successful vegan sausage roll launch in partnership with Greggs. In March of this year the company also unveiled The Ultimate Burger, following the current trend of vegan "bleeding" burgers.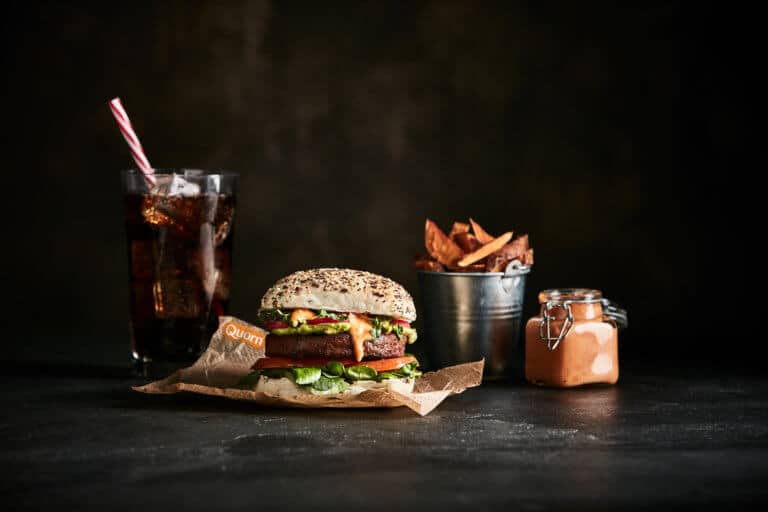 Kevin Brennan, CEO of Quorn Foods, commented: "Today's results reflect the strong momentum we've seen since 2016. While it's important that Quorn continues to grow, it's vital that we do so in a sustainable way. As we continue to make progress, it's clear that now is the time to invest heavily in research and development to ensure we lead the world in delivering great solutions to the climate issues associated with meat production."
Internationally, Quorn Foods saw increased momentum in several key markets in 2018, with sales growth in Australia reaching 38%, and US sales climbing 24%. Further investment in the US also seems to be paying off for Quorn Foods in early 2019, where the company has seen a considerable increase in the uptake of its products, namely through partnerships with leading grocery chains such as Kroger.
 "In a market where $2.3bn of chicken nuggets are sold every year, the fact that Quorn nuggets are the fastest selling product within the meat-free category in Kroger is testament to the superiority of our products. It highlights the great opportunity we have in the US market, where we expect sales to grow by 45% in 2019" Brennan said.
Quorn's research and development initiatives have led to a strong start to 2019, with the launch of the highly-anticipated new Fishless Fillets range already exceeding sales expectations, while Quorn's industry-leading range of 10 cupboard friendly convenience foods are set to hit shelves in June.