It's day one of our celebratory series about the wonderful world of plant milks, leading up to World Plant Milk Day this Saturday August 22. Our second brand today is an innovative new company from the USA called Take Two. Take Two upcycles waste barley from rejuvenated spent grain, the by-product of beer brewing.
Take Two Barleymilk comes in four flavours: Original Unsweetened, Vanilla, Chocolate, and Chef's Blend. The company's co-founders worked on the formulation for three years, perfecting the process of upcycling waste barley, and the initial products were launched in the USA in March 2020. The brand is the first plant-based milk made from barley in the United States, and also the first to offer a uniquely formulated Chef's Blend with cooking and baking in mind.
We spoke to Christina Brehm, Head of Brand & Marketing for Take Two Foods, who was keen to tell us about the company's plans for WPMD.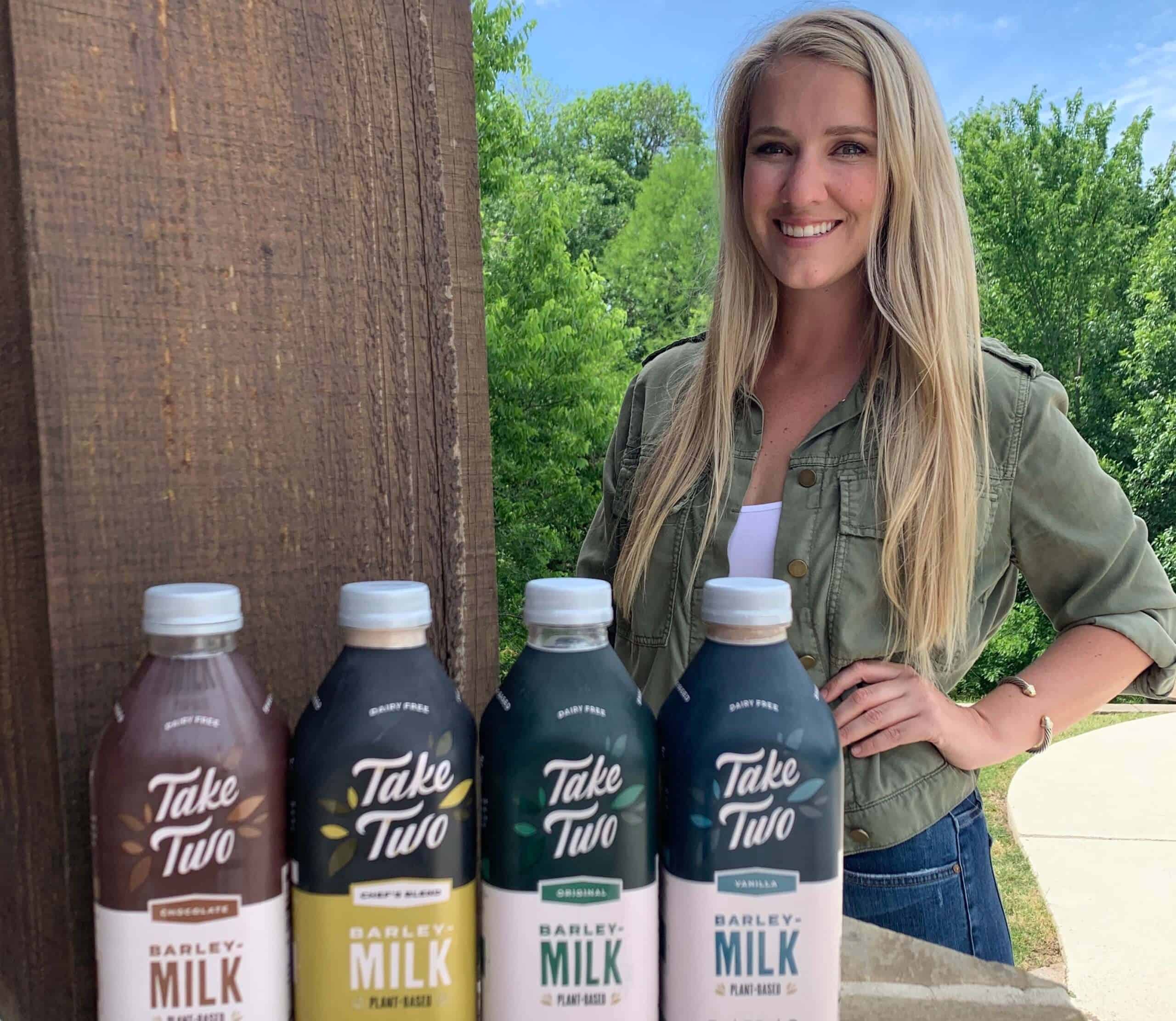 "Take Two is excited to bring Barleymilk to Los Angeles in celebration of World Plant Milk Day!" she said. "We'll be on the road handing out over 1,000 bottles of Barleymilk near Erewhon and Pantry LA stores across the LA metro from August 20-22. This annual event is a wonderful way to raise awareness of the benefits of plant-based milk, and we're thrilled to help spread the word."
"According to Project Drawdown, adopting a plant-rich diet is considered one of the most efficient and effective ways to impact climate change. For this reason, Take Two is committed to offering the most delicious, nourishing and sustainable plant-based milks on the market — making it easier and more exciting to make the switch to plant-rich."
We at Vegconomist love to gain insight into how companies evaluate the plant-based market, so we asked Christina what her opinion is regarding the growth of plant milk and what she thinks the industry will look like in ten years' time.
"In traditional grocery, plant milk has gained about +1% of share from dairy milk every year for the last 5 years. Plant milk is currently on track to make up 15% of the total refrigerated milk category this year. Solely based on historical data, I would anticipate that plant milk could make up at least 25% of the refrigerated set 10 years from now."
"That said, there's a shift happening in consumer awareness and values — towards more sustainable and intentional choices for both human health and the health of the planet. That, to me, offers a tremendous upside for the plant-based community — especially as we get smarter about formulation and creating world-class products. Our team has worked for three years to develop Take Two Barleymilk to have taste and performance comparable to traditional dairy, which makes it easier and more compelling for dairy drinkers to make the switch."
Finally, we wanted to know if Christina would like to share anything with our readers to mark this special event.
"Come join us in celebrating World Plant Milk Day in Los Angeles!" she said. "We're keeping our schedule updated through our Facebook event, and you can follow along on our Instagram page for up-to-the-minute details. We can't wait to give vegconomist readers a free bottle of the most delicious, nourishing, and sustainable plant-based milk found anywhere. If you live somewhere else in the United States, we can also ship a box of Barleymilk directly to your doorstep. Use the code "VEGSHIP" at checkout for free shipping."