Canada's Very Good Food Company recently announced that it is significantly expanding its production capacity at its facility in Rupert, Vancouver, and is close to starting production at its facility in California. The news marks the latest in a long line of successes for the publicly listed company, which has grown at an astonishing rate since its launch just a few years ago. Here we take a look at the story so far.
2016: The Very Good Butchers starts out as a market stall on Denman Island, BC.
February 2017: The company moves to its first retail location, opening a plant-based butcher shop in Victoria, BC.
August 2017: Very Good launches a successful Kickstarter campaign to help it expand to a bigger location. The campaign raises over $64,000.
December 2018: The company launches an equity crowdfunding campaign on FrontFundr, raising $600,000 from 250 investors. Its initial goal was just $100,000.
June 2020: The company launches onto the stock market, becoming the world's second-ever plant-based IPO. Shares increase by 790% in the first week of trading.

©The Very Good Butchers

July 2020: Very Good enters into an agreement with Canaccord Genuity Corp. to purchase an aggregate of 4,000,000 units for a total offering of $5,200,000.
August 2020: Very Good announces it will be opening 25 new stores, as well as launching new products and expanding the distribution of its existing range. The company closes an oversubscribed $8.5 million bought deal public offering.
September 2020: The company's Q2 results outperform Beyond Meat's. It announces it will be opening a new facility in California.
October 2020: Very Good partners with wholesale distributor UNFI to expand across Canada.
November 2020: Ana Silva leaves her post as Chief Financial Officer of Daiya and joins Very Good as president. The company goes public in the US.

Ana Silva ©The Very Good Butchers

December 2020: The company reports record sales of over $780,000 for the previous month, a staggering increase of 582% over November 2019.
January 2021: Very Good acquires Canadian vegan cheese company The Cultured Nut.
March 2021: The company reveals it is relaunching The Cultured Nut as The Very Good Cheese Company. It also announces the strategic acquisition of the Lloyd-James Marketing Group.
July 2021: Very Good announces it will be launching in the UK.
August 2021: The company dramatically scales up production and announces that its California facility will begin operating in September.
The production "Line 1" became operational in April 2021, producing an average of nearly 6,000 kg of products per day. In the first quarter of 2022, Line 1 production is expected to increase to approximately 27,000 kg per day to meet the increasing demand for VERY GOOD's products. The second production line ("Line 2") will begin in the fourth quarter of 2021 to produce its new gluten- and soy-free Butcher's Select line. This premium line is designed to compete with Beyond Meat and Impossible Foods by offering extra meaty flavor and texture with simple and wholesome ingredients.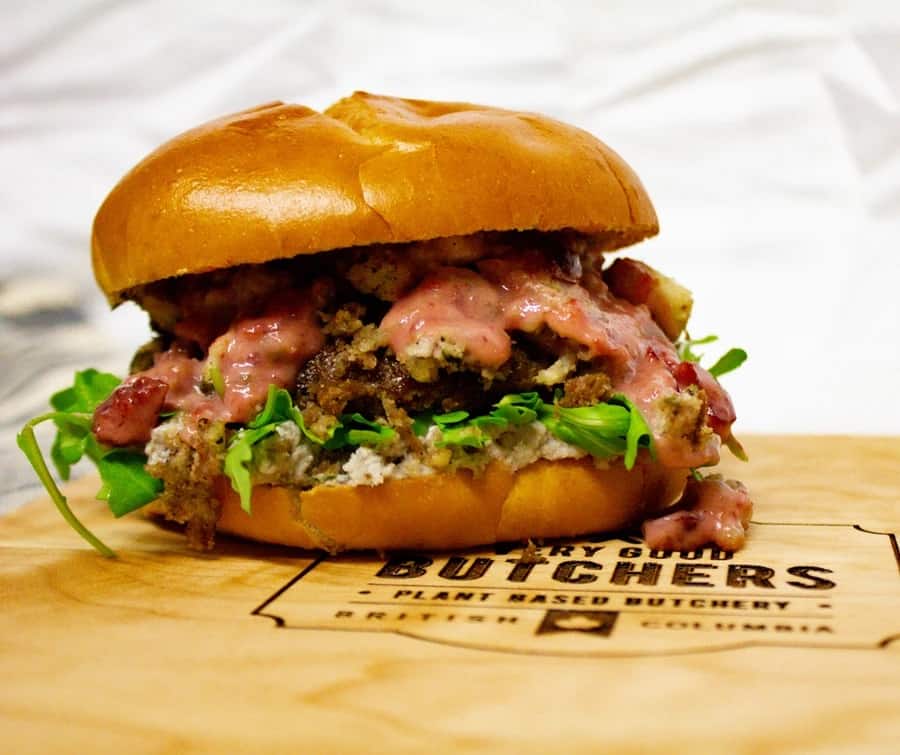 "As governments are waking up to the fact that meat production is incredibly detrimental to our environment, we can see subsidies that were traditionally granted to the meat and dairy industry diverted to more sustainable farming practices, like the production of plant-based proteins and potentially towards cultured meat products," founders Mitchell Scott and James Davison told vegconomist in an interview last year.
"We see meat as becoming increasingly peripheral in our food supply."