Tideford Organics, a mainstream organic, plant-based, vegan, gluten and nut-free food brand in the UK, introduces innovative new products and announces its biggest ever marketing investment – £1 million over the next three years – as part of its drive to become the leading organic, vegan and plant-based brand in the UK grocery market.
The Devon-based brand has been in operation for 20 years and in 2016 its founders decided to make the range 100% vegan. Since then, Tideford reports that it is achieving 25% year on year growth which is projected to continue. The company aims to become a £15 million brand by 2023, through its mission of producing 'Great tasting and healthy food that's good for everyone and the planet',
In addition to its existing portfolio of organic plant-based soups, sauces, pestos, and misos, and as part of its vegan development, Tideford has now launched:
Three new risotto meal pots: Risotto Verde, Mediterranean Risotto and Mushroom & Garlic Risotto
Three new organic and plant-based sauces: Green Pepper & Coriander Pesto, Smoky Red Pepper & Garlic Pesto and Tomato & Jackfruit Ragu Sauce
Four new fresh soups: Moroccan Spiced Chickpea, French Onion Soup with Miso, Thai Spinach with Chilli + Lime and Smoky Tomato with Paprika + Cumin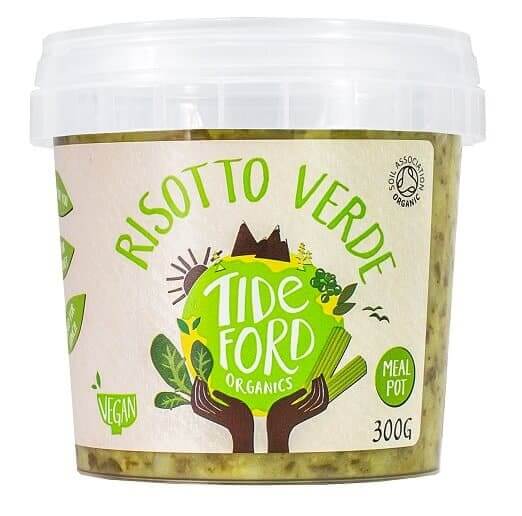 David Page, Executive Chair of Tideford Organics, commented: "This is an exciting time for Tideford and we feel uniquely placed as the UK's only mainstream organic, plant-based, vegan and free-from food brand to capture an even greater share of these growing categories to become the leading player in organic and plant-based.
"Being organic and plant-based is everything we do and are passionate about as a business. Our products are designed for everyone, including the three million meat-eaters and 'flexitarians' in the UK who are actively seeking to reduce their meat consumption, motivated by a desire for a healthier diet and a healthier planet.
"Our June 2020 YouGov survey with over 1,000 respondents demonstrated that, among all leading chilled soup brands, Tideford Organics rated highest for being associated with holistic health – good for you, good for the planet, wholesome and with the best natural ingredients. Retailers can feel reassured that with Tideford, they are providing an option that is clearly differentiated and highly appealing to a broad range of consumers."