Vegan cheese producer Violife, recently acquired by Upfield to create one of the biggest plantbased manufacturers in the world, announces positive "proactive measures" to continue to supply retailers and customers during COVID-19, with the public staying at home and having to adapt to changing patterns in day-to-day life.
The brand says it is continuing to invest in new product development, for example with its new EPIC Mature Cheddar Flavour range. EPIC Mature Cheddar Block initially launched in January into Waitrose and Sainsbury's stores, and is now to be extended with the new grated product this April.
In order to keep its workers safe, Violife has introduced staggered shifts patterns to reduce contact, provision of protective clothing and disinfectant solutions to ensure high levels of hygiene are maintained at all times and the strict health screening of all workers.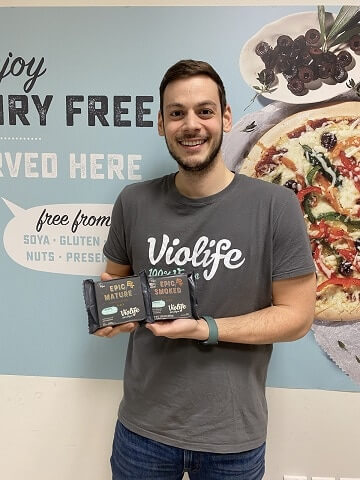 Thanos Korokas, Head of Research & Development, commented: "As the leading vegan alternative to cheese, which owns 88% of the branded dairy-free alternative to cheese market, we have a responsibility to give our customers new ingredient inspirations for use when preparing vegan meals.
"With many of us having to stay at home over the coming weeks, Violife's vegan and flexitarian communities will still be able to create delicious vegan dishes that all the family can enjoy as we ensure that the Violife range, including the new EPIC Mature Cheddar Flavour Block, continues to be supplied to retailers."
Korokas continues: "Violife continues to drive innovation of the category, be that through new product launches or refinement of taste credentials. We are particularly excited to see our new EPIC Mature Cheddar Flavour Grated go on shelves at Sainsbury's from the beginning of April, offering consumers a delicious tasting vegan cheese in a format that is perfect for everyday use."