The European Space Agency (ESA) has released an update on the potential for growing meat in space, revealing that the research looks "promising." 
Since 2021, the ESA has sought experts in cultivated meat for its future explorations. And over the last year, the agency has supported research with funding from the Discovery element (part of the ESA's Basic Activities) to ascertain whether producing cell-based meat "in situ" to feed astronauts on long-term missions is feasible. 
Two teams — the space biotech company Yuri and Reutlingen University from Germany, and cellag company Kayser Space and research company Campden BRI from the UK — worked independently to develop the idea further. They compared the existing protein food alternatives studied in space, such as plants and algae, to cultivated meat as a protein source. Moreover, each team proposed different cultivated meat production methods and bioreactor technologies.
"Now the research results are in – and they look promising," stated the ESA. "After their analysis, both teams have come to similar conclusions and suggest that the idea of producing cultivated meat in space is not far-fetched and calls for further research," said ESA engineer Paolo Corradi.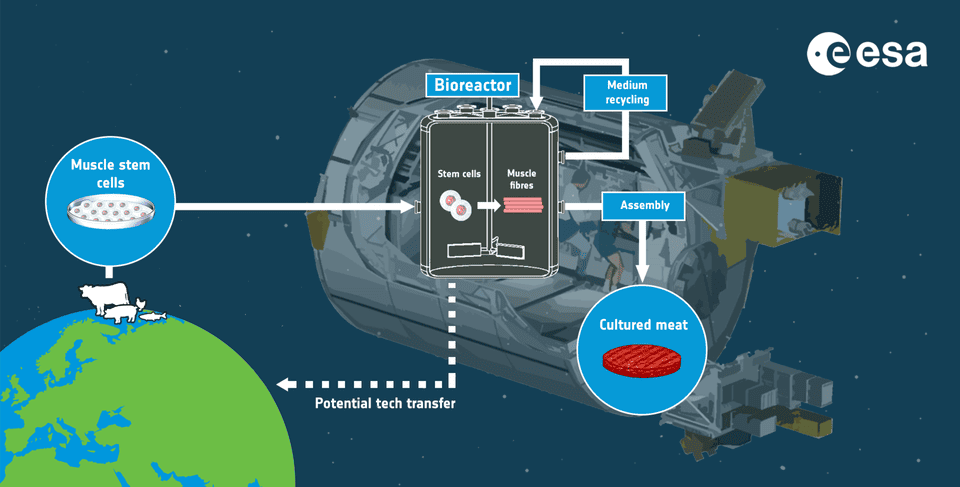 The ESA also states that it is working to develop technologies to improve bioprocesses and metabolic resource use onboard the spacecraft. "We are creating ground prototypes to investigate, for instance, closed-loop systems that recover nutrients and recycle metabolic wastes. This could also be applied to cultivated meat production to recover the nutrient medium that we give to the cells," explains Christel Paille, ESA life support engineer and part of the cultivated meat activities.
"It's something that is still in its infancy, so we proposed a roadmap that outlines the steps required to progress the necessary technologies and fill current knowledge gaps," Corradi adds.
According to the ESA, its research on cultivating meat in space could be transferred to practical applications on Earth, accelerating the transition to new ways of producing better meat for the planet. 

Novel proteins for astronauts
The ESA is not the only space agency interested in novel proteins. Last year, SpaceX crew members announced they were ready to conduct experiments on the effects of microgravity on the formation of muscle tissue cultivated by Aleph Farms. NASA's Deep Space Food Challenge (DSFC) is looking for innovative food production technologies for space. Also, the Swedish foodtech company Mycorena was among the DSFC finalists for its innovative circular system for brewing protein using algae and fungi.
"The feeling is that we are at the beginning of a process that could transform the industry, making the conventional meat production model obsolete. Developed countries have the historical opportunity to move away from farming and killing animals, being a very inefficient process to produce food, unsustainable for the planet, dangerous for our health and raising more and more ethical concerns among the population," Corradi states.