This year, the German Association for the Promotion of Biocyclic Vegan Agriculture (Förderkreis Biozyklisch-Veganer Anbau e.V.), in cooperation with the Albert Schweitzer Foundation (Albert Schweitzer Stiftung fü r unsere Mitwelt), presented its debut workshop and information desk at the 6th Future Dialogue for Agriculture & Food on 3-4 June 2019 in Berlin.
At the annual event, organised by the magazines "DIE ZEIT" and "agrarzeitung", representatives from science and business, politics and agricultural practice seek constructive and innovative solutions for topics such as climate change, animal welfare, environmental impacts, globalisation and digitalisation.
Biocyclic vegan agriculture is a new global organic standard with an outstanding innovation potential for the sustainable development of the entire agricultural and food sector. Being a vegan, purely plant-based form of sustainable organic agriculture, it excludes all commercial livestock farming and slaughtering as well as the use of fertilisers and inputs of animal origin. Long-term preservation of soil fertility is ensured by the use of purely plant-based organic materials, including biocyclic humus soil, and by measures to promote soil life, which can lead to considerable increases in yields.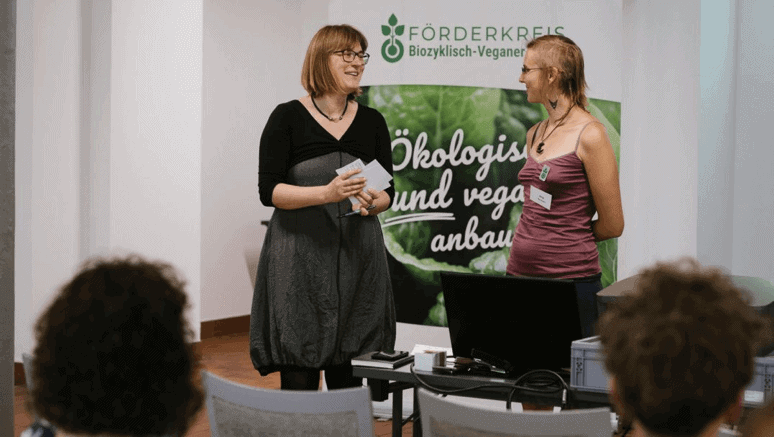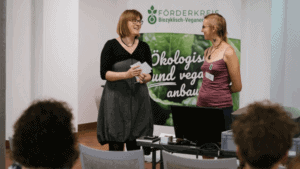 The consistent vegan orientation of this form of cultivation significantly reduces the risks associated with livestock farming, which are also present in traditional, non-vegan organic farming, with its effects on climate, soil and water, but also on human health (multi-resistant germs) as well as world nutrition (inefficient land use). Approaches and measures such as wide crop rotation, systematic mixed cultivation, gentle and varied forms of tillage, mulching, the creation of hedges and flower strips and habitats within the cultivated area also contribute to a remarkable promotion of biodiversity.
New methods for the future
During a three-hour workshop entitled "Yield Increases and Climate Protection through Biocyclic Humus Soil – Potentials and Solutions for a Closed-Loop, Vegan Form of Organic Agriculture" the speakers Anja Bonzheim, Dr. agr. Johannes Eisenbach and Daniel Fischer presented the principles and potentials of biocyclic vegan agriculture, as well as the IFOAM acknowledged Biocyclic Vegan Standard, which can be applied for auditing and certification worldwide. Other topics discussed included the current international spread and economic viability of this type of cultivation, the options available to agricultural operations for consulting and conversion, as well as future prospects for research and cooperation. Furthermore, a special focus was placed on the most recent research approaches on the properties of biocyclic humus soil, which promise groundbreaking new practices for sustainable agriculture.
With the presentation of biocyclic vegan agriculture at the 6th Future Dialogue, for the first time, key stakeholders and decision-makers in the agricultural and food sectors were given the opportunity to become acquainted with this new form of cultivation, which, from its basic principles, offers practicable solutions to the planetary challenges of our time and is therefore likely to move even further into the focus of interest in the future.