This past weekend, the Javits Center was the place to be for anyone and everyone interested in learning about the growth of the plant-based foods market, which is transforming the way people eat. Trade show management company JD Events announced that 3,737 attendees participated in the launch of the Plant Based World Conference & Expo. The event was supported by founding partners Plant Based Foods Association, Eat for the Planet, The Plantrician Project, and Follow Your Heart.
"We had attendees who traveled from all 50 states and countries throughout the world to be a part of this first-of-its-kind event. A healthcare conference, a business conference, an expo open to the general public all rolled into one epic gathering of humans with the common belief that what we eat, how we feel and the world we share are all integrally connected," said Ben Davis, Content & Communications Director, Plant Based World Conference & Expo.
The expo hall was packed with professionals and consumers who tasted and sourced plant-based products from 125 exhibitors and sponsors. Delicious plant-based foods were offered, including a chef-created, plant-based seafood from Good Catch; new real cheese and butter made purely from plants from Miyoko's; artisan plant meat from No Evil; creamy faba butter and decadent cookies from Fora Foods; 100% plant-based tomato sauce from Otamot; the original coconut ice cream from NadaMoo!; and so much more.
In addition to the exhibit hall, there were three keynote presentations, three education programs and several feature areas.
Nil Zacharias, Founder of Eat for the Planet moderated the Friday and Saturday opening keynotes: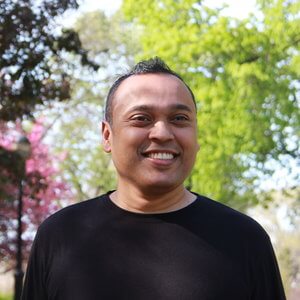 1) An informative and insightful keynote presentation with leaders from the Plant Based Foods Association, Kroger Merchandising Consulting at 84.51 and Restaurant Associates. These leaders discussed the double digit growth of the industry, catering to the one third of Americans who now identify as "flexitarians", aiming to reduce their meat and dairy consumption, causing the industry to reach into the mainstream.
2) A conversation with Seth Goldman, Executive Chair of Beyond Meat on turning a mission driven business into a mainstream revolution. Seth who is also co-founder of Honest Tea, shared his journey, and discussed what's next for Beyond Meat, his thoughts on the growing plant-based food industry and innovative new food trends he expects to emerge in the decades ahead.
The Eat for the Future Business Forum, produced in partnership with Eat for the Planet, featured speakers including executives from StrayDog Capital, Bareburger, Wicked Kitchen/Tesco, The Good Food Institute, and Hain Celestial to name a few. The Forum was designed for retail, food service, product manufacturers, plant-based food companies and food industry professionals to learn about the growth in consumer demand for plant-based foods.
The 2020 Plant Based World Conference & Expo will be held June 5-6, 2020 back at the Javits Center in New York City. For information on exhibiting contact Michelle Bonina, Sales & Business Development Director at 203-416-1924 or [email protected]. For information about Plant Based World Conference & Expo, visit http://www.plantbasedworldexpo.com/