The Himalayan Vegan Festival, taking place this month, will focus on raising awareness about veganism and vegan lifestyle to reduce animal suffering through the adoption of a plant-based diet.

"It's crucial that we shift eating habits worldwide towards eating more veg and less animals of all kinds," Derek Sarno, speaker
Taking place this September from the 15th to the 17th in Kathmandu, and from the 18th until the 20th in Pokhara, the non-profit festival is a family-friendly, educational, and free-access event organised by World Vegan Organisation Nepal (WVO).
"This festival will be the first and largest purely vegan festival in the country, aimed at expanding the relationship between pure vegetarians, compassionate life practice, and animal conservationists, as well as to spread awareness to the general public about veganism," declared Ajit Thapa, WVO Nepal's general director in a press conference covered by The Himalayan.
In addition, a pre-event called "Climate Change, Conservation, a Plant-Based Diet, and Buddhism in the 21st Century," which will gather the Buddhist community to discuss topics around climate change, will be held in Lumbini (the birthplace of the Buddha), from September 12th to 14th.
The festival will host over 100 international, regional and local delegates and speakers from more than 32 countries. Derek Sarno, co-founder and creator of Wicked Kitchen and chef director of plant-based innovation at Tesco, was invited to participate in the event:
"I'll be speaking in Kathmandu, Nepal, for the very first Vegfest. I'm always honoured to be asked to inspire and share how to create amazing foods without using animals; it's crucial that we shift eating habits worldwide towards eating more veg and less animals of all kinds," he recently announced.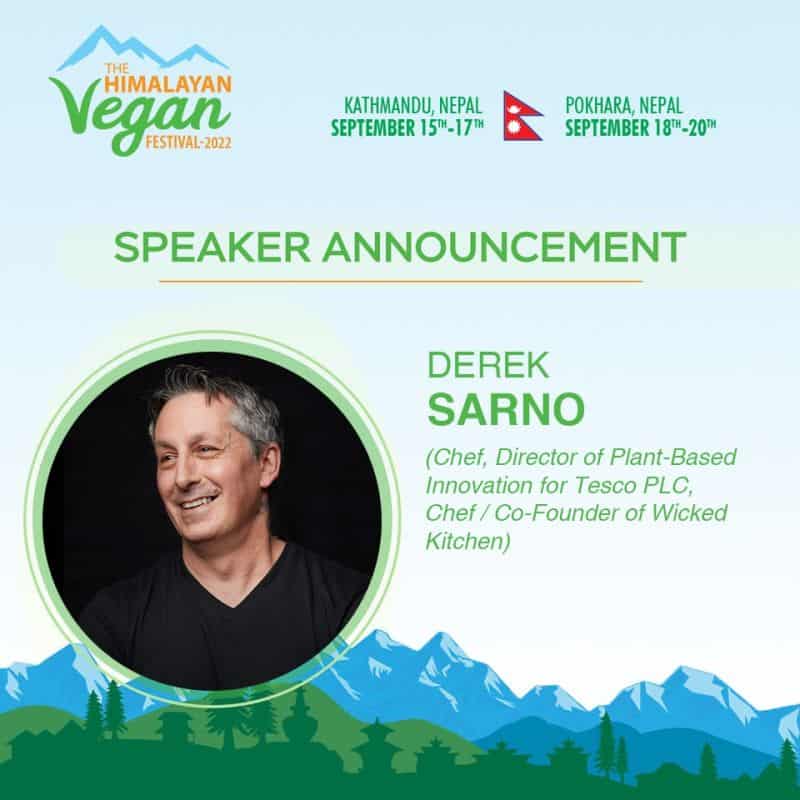 Visitors attending either event will get the chance to taste authentic vegan foods, take cooking classes, meet local and international chefs, join health and sports interaction programs, and learn about animal rights, among many activities:
Internationally recognized speakers and vegan celebrities

Entertaining local musical and dance performances

A vegan food court and kid's food festival

Local and international vegan chefs and cooking demos

Movie screenings and a short film competition

Interactive workshops and classes and a kid's corner

A 5K mini-marathon

Vegan health, fitness, and fashion features;

Youth-oriented yoga and fitness activities

A gardening seminar

Animal education talks and activities
The event is a networking opportunity for brands to showcase their plant-based vegan products and services.

Carbon neutral event

Kathmandu's Soaltee Hotel and Pokhara's Hotel Grand will be the festival venues, and the organizers say that the Himalayan Vegan Festival will be a carbon-neutral event.

"All carbon emissions will be offset with tree planting and other projects that volunteers are organizing with youth from Pokhara, Lumbini, and Kathmandu; we will be using Yeti Airlines, Nepal's first carbon-neutral airline, and two new electric buses provided by The Lumbini Development Trust has will be used around Lumbini," informs the WVO Nepal in their website.
Though The Himalayan Vegan Festival is open and free for the general public, there are available all-inclusive passes for visitors who want to support the event and, by doing so, get priority access to all the activities.