ProVeg announces the New Food Conference 2020 which will take place on April 23-24 in Berlin. The conference will once again bring together leading experts to discuss sustainable food solutions for the future. In response to demand, the second edition of the conference will have increased capacity, allowing for a greater number of attendees.
ProVeg is supported by a network of around 100 regional groups in Germany who are committed to the ProVeg mission – to reduce global meat consumption by 50% by 2040. The organisation has teams in the United Kingdom, the Netherlands, Poland, Spain, and South Africa, plus recently China and the USA.
After the successful New Food Conference in March this year, ProVeg invites leading stakeholders from the most innovative sectors of the food industry to Berlin again next year: On 23 and 24 April 2020, the topics for discussion will once again revolve around the future of vegetable and cultivated proteins.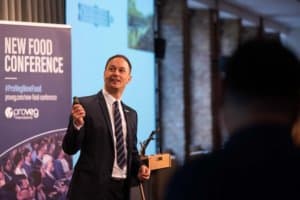 With the New Food Conference, held for the first time in March, ProVeg is breaking new ground and offering the entire cellular plant food industry a new, internationally oriented exchange and information platform that did not previously exist in Europe. The focus of this conference is on consumer acceptance and the shaping of the European market in the area of cultivated and plant alternative products.
For the second New Food Conference in April 2020, ProVeg is already working on the identification of topics and is therefore launching a survey on a broad social level. Which topics are important for you? By participating in a short survey (max. 5 min), each individual can have a say in the content of the New Food Conference 2020. Are you interested in being a partner of this groundbreaking event?
For additional information about the programme, tickets, contact [email protected]