After a hugely successful premiere in 2022, Vegan Business Tribe Live returns to VegFestUK London 2023 with a speaker lineup of vegan business owners, including the founders of THIS, One Planet Pizza, and Better Nature.
Organised by the online vegan business support community Vegan Business Tribe and sponsored by Vegan Accountants, the programme features live events, panels, workshops, and networking to "showcase the best of the vegan scene and help those looking to grow a vegan business."
"I attended the first Vegan Business Tribe Live last year with some ideas about setting up my own business. A year on, I'm now running an award-winning food business in Bristol and am already expanding. The information I learned at the event was crucial for getting me off the ground," comments Jason Rustage, founder of Gourmet Poke.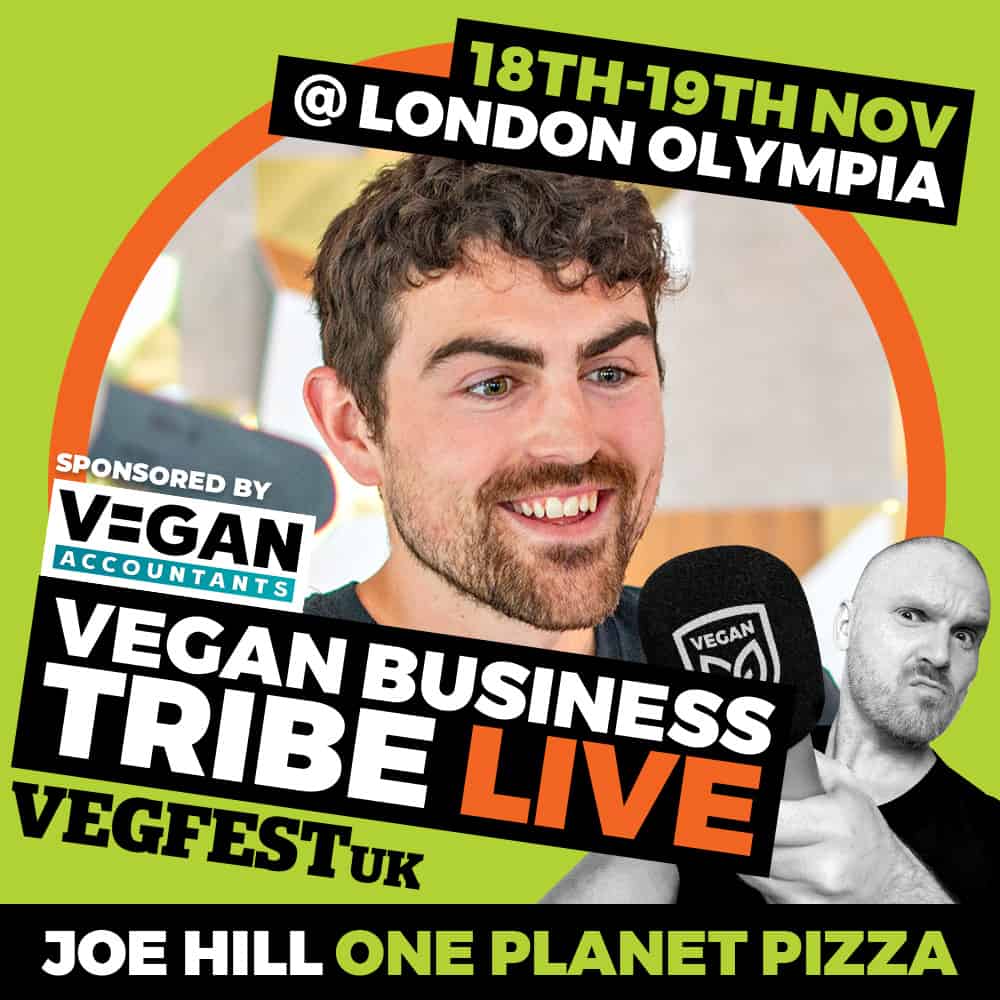 A "rockstar lineup"
Over 20 speakers will engage with participants over two days of stage talks, including industry experts, vegan business founders, and investors. 
Founders Andy Shovel (THIS), Joe Hill (One Planet Pizza), and Chris Kong (Better Nature) will share the next big trends in the vegan and plant-based sector. Other business owners, such as vegan PR expert Karin Ridgers, will deliver workshops providing insights on getting a vegan business featured in the media. A panel of vegan angel investors will be sharing how to attract investment.
Other speakers include:
Indy Kaur – Plant Futures
Anant Joshi – Vegan Angel Investor
David Pannell – Vegan Business Tribe
Andrew Threlfall – Vegan Angel Investor
Dan Sherrard-Smith – MotherTree
Laura Chepner – The Vegan Society
Chloe Bullock – Materialise Interiors
Kelly Vowels – Pixal Rose
Steve & Mel Ferrett – Vegan Muscle
Daniel Morgan Jones – The Aspie World
Jess Saunders – Vegan Punks
Dana Burton – Vegan Kids
Keith Lesser – The Vegan Accountant
Jai Street – Mindful Wealth
Shabari Das – World Vegan Market & London Vegan Business Network
Kayleigh Nicolaou – Kakadu Creative
"We had hundreds of attendees last year and we knew that event was going to be hard to top. However getting expert speakers like Andy Shovel from THIS and Chris Kong from Better Nature Tempeh to join us on stage has helped us build an unmissable rockstar lineup," said David Pannell, organiser and founder of Vegan Business Tribe.
VegFestUK London 2023 will take place at London Olympia from the 18th to the 19th of November. VegFestUK is celebrating its 20th year in business since it launched as Bristol Vegan Fayre in November 2003.