The Eco Life Scandinavia and Nordic Organic Food Fair is now opening visitor registration for 2019, and vegconomist is proud to announce that we will be acting as media partners for Scandinavia's favourite sustainable business event. The event takes place between 13-14 November and the vegconomist stand will be number E80 in the Vegan Area.
Thousands of Nordic retailers and buyers are now planning their visit to the highly anticipated rebranded trade shows dedicated to the thriving organic, healthy, environmentally friendly and sustainable lifestyle sector. This year's line-up will feature over 500 exhibitors, new international pavilions, fresh content (in three theatres), and new feature areas, including the Sustainability in Retail Forum.
What's in store?
With the news of ICA Sverige planning to launch over 50 new vegan products this year alone – the vegan trend shows no sign of slowing down. Reflecting this growth, the show's new Vegan Zone will include innovations from a range of pioneering vegan companies, like Follow Your Heart, Upton's Naturals, and Benevo Vegan Pet Food – to suit all areas of this rapidly growing lifestyle choice.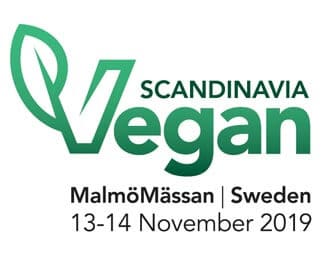 "The plant-based market is exploding in Europe, with Scandinavian countries leading the way. One in every five Swedes under the age of 30 identifies as either vegetarian or vegan, so we are thrilled to be highlighting our line of jackfruit, a whole food-based meat alternative, within the new Vegan Zone of Eco Life Scandinavia," says Natalie Slater, marketing manager at Upton's Naturals (USA).
The Eco Life Scandinavia area will incorporate the best choice of eco-living brands on the market, including innovations from Hevea, Manuka Doctor, Bio4Life, Marcel's Green Soap, Teapigs, The Cheeky Panda, The Protein Kitchen and Greenscents.
Over in Natural Health & Beauty Scandinavia, visitors can see and sample a wide selection of green, ethical, sustainable, cruelty-free, natural and organic beauty cosmetics, skincare and haircare, plus clean-label natural health VMS, sports nutrition, herbal medicines and more. See the latest products from Faith in Nature, Flow Cosmetics, Skin Chemist, Annabelle Minerals, Osimagneisum, Luonkos Finland, WISE Organic Skin Lab, and Sweden Eco.
Eco Life Scandinavia and the Nordic Organic Food Fair will return to Malmö, Sweden, on Wednesday and Thursday 13-14 November. For more information and to register for a free trade ticket, visit www.nordicorganicfoodfair.com and use priority code NFUK1013.