Amschela, a sustainable luxury handbag brand based in the UK, has launched a crowdfunding campaign for its new AIRIUM bag.
AIRIUM is made from MIRUM, a plastic-free vegan leather alternative produced by Natural Fiber Welding. The multipurpose "6 in 1" bag can be worn six different ways — from handheld to a clutch or a crossbody.
The bag will be manufactured by Veshin Factory in China, which produces sustainable accessories made from vegan materials. The facility also has a commitment to treating its workers ethically, in an industry notorious for its human rights abuses.
Vegan brand
Amschela started out by producing conventional leather accessories then transitioned to a vegan brand during the pandemic after learning about the environmental impact of the leather industry. The company has chosen to use crowdfunding for its new campaign for sustainability reasons; the bag will be made to order, with no excess production.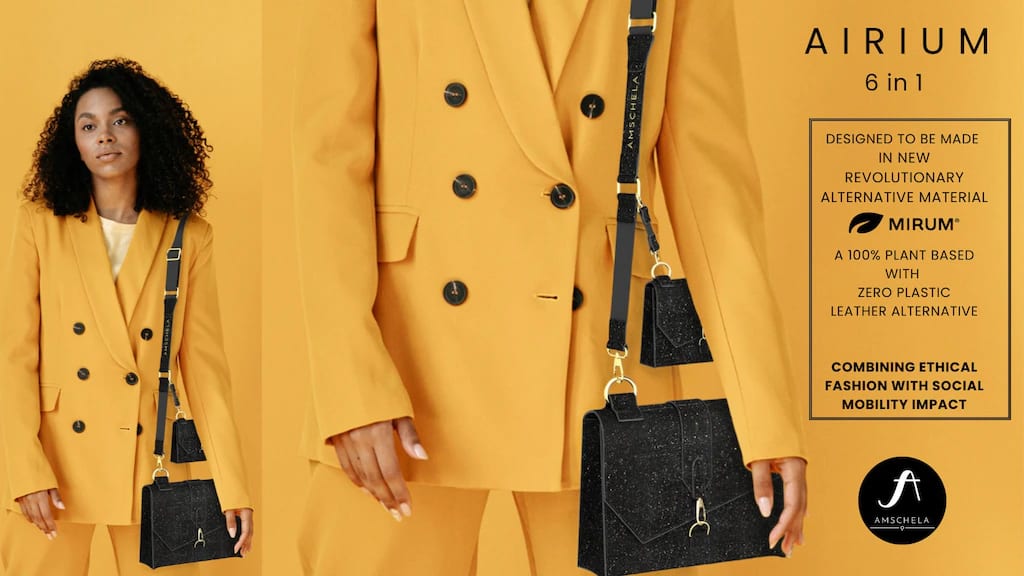 Amschela also has a social mobility program, helping young people from disadvantaged backgrounds to enter the fashion industry.
Mirum-based accessories
Mirum is becoming an increasingly popular material for vegan accessories, as it is biodegradable and free of petroleum-based plastics. In 2021, Germany's Melina Bucher launched designer handbags made with the material, while New York-based Brave GentleMan began offering Mirum-based shoes the following year. More recently, India's Anita Dongre launched a range of bags and accessories made with Mirum.
More information about Amschela's crowdfunding campaign can be found here.