PETA-Approved designer, Purvi Doshi, recently launched a complete collection of vegan Kotpad saris. This week, on National Handloom Day, Purvi Doshi launched a limited edition line of vegan, toxin-free saris inspired by the region of Koraput, India as reported by The New Indian Express.
"This client works towards the upliftment of tribals, and she shared her experiences of interacting with the tribes living in Koraput. She said I should definitely explore the weaves the tribes there create. I was amazed that in such troubled areas, we have such a beautiful craft. So I visited the region, and my travel inspired me to create a complete collection of Kotpad saris," shares Doshi.
"There are absolutely no chemicals involved in the process of making these saris. And many people believe that these weaves are medicinal, because of the use of madder," explains Doshi, who believes in hand-crafted, responsible and cruelty-free fashion.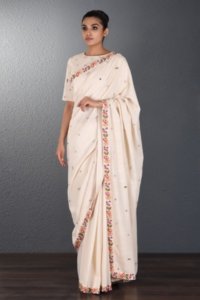 Since founding her label in 1992, Doshi has pushed towards the use of handwoven textiles made with natural and organic dyes. Also known for her compassion for animals, in a recent fashion show, the designer had the models wrapped in plastic in protest to animal confinement in tanks.
The designer recently launched a menswear collection and is expected to release her eighth bridal collection, 8th Vow, by the end of this year.
"We take seven vows with our partners on the wedding day, but we should extend it to an eighth one, which will be a promise to our planet and to every other living being, that we will not harm you," she says.
In December 2018, Doshi was presented with PETA's Compassionate Designer Award for her vegan clothing collections.