The Body Shop has released UK Vegan Cities Guide for Veganuary. With veganism more on the rise than ever, The Body Shop researched the top cities in the UK for veganism and found some interesting results.
According to The Body Shop, Google searches from London for the word 'vegan' have increased by 175% since 2015, and searches for 'cruelty free beauty' have also seen a rise by 100%, with the most mentions of #vegan on social media coming from Manchester.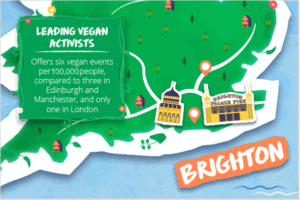 Google searches for 'vegan makeup' have grown significantly since November 2014; those in Glasgow have grown by a massive 77%, meanwhile in London and Sheffield by 72% and 65% respectively. Edinburgh seems to have taken to vegan food as well: there have been 22 times more searches for 'vegan restaurants' in 2018 than in 2017, and it has grown by a further 97% since. While Edinburgh is interested in vegan options, Brighton is already known as a vegan hotspot: The city offers the most events per 100,000 people and it has 96 vegan friendly restaurants.
The Body Shop has seen its highest sales in Glasgow: 237% more vegan products per person than those in London, while in Manchester it has sold 171% more vegan offerings than in London. As for London itself, The Body Shop sold 250,000 vegan products in the course of three months last year, with the most amount of vegan products having been sold in the Oxford Street, Regent Street, and Westfield Stratford branches.