In recent years, the successful shoe manufacturer Birkenstock has been constantly expanding its range of shoes made from plant-based materials. In addition to the company's award-winning shoes, buyers in Birkenstock's other product categories are also looking for vegan products.
Awards for vegan shoe range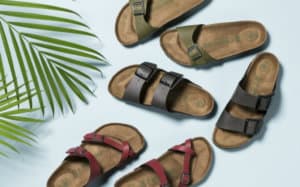 Vegan versions of five different types of Birkenstock sandal, as well as a clog model, are all available in various colours. In September 2016, the long-established company received the PETA Deutschland Vegan Fashion Award for the vegan version of its classic sandal "Madrid".
The following year, BIRKENSTOCK received the Libby Award from peta2, PETA USA's youth organisation, for being the "Most Vegan-Friendly Shoe Company". Young people from all over the world were able to vote online to decide on the winners.
"We are delighted about the award because it comes from those for whom we make our products – our customers," says Birkenstock CEO Oliver Reichert. "Especially among younger customers, there is a growing number who consciously live vegan. We already have many vegan products in our range for these customers. The peta2 Libby Award is motivation for us to continue on the path we have chosen."
Fashionable models with a green stamp
The upper material of the vegan sandals is made of microfibre or Birko-Flor, a high-quality synthetic material, and the outer sole is also made of microfibre or fleece. The adhesives used do not contain any ingredients of animal origin. The vegan models can be recognised by their printed green insole stamp.
According to Reichert, the prejudice that vegan clothing is unfashionable is completely unfounded: "With our vegan collection we are proving the opposite and showing that vegan clothing can be animal-friendly and chic and trendy at the same time. If the demand for vegan shoes continues to grow so rapidly, we will of course continue to expand our range of vegan product alternatives."
Vegan range of legwear and skincare products
Apart from the classic shoe models, the company's newer product categories also include a wide range of plant-based products. For example, its legwear collection includes a range of socks and hosiery made of organically-grown cotton. In addition, all skincare products in the natural cosmetics line BIRKENSTOCK NATURAL CARE are completely vegan.
Tradition-rich company with international success
The family business BIRKENSTOCK is a global footwear brand and currently employs over 4,300 people worldwide in its sixth generation, making it one of the largest employers in the German footwear industry.
The historical roots of the shoe manufacturer can be traced back to the year 1774. The sandals, manufactured in Germany, have been available in over 100 countries on five continents since the early 1970s.