Several Finnish companies have made it their mission to make a lasting change to the textile industry with their innovative materials and processes. This has also had benefits for the vegan textile industry. Here are two of these companies.
Textile fibres from the Finnish forests
Ioncell was developed as a research project by Aalto University in Finland. Ioncell's research team has developed a process that can be used to manufacture textile fibres from cellulose, e.g. wood, and to recycle textiles in a way that conserves resources.
Pirjo Kääriäinen, Professor of Design and Fibre Innovations at Aalto University, explains that the conventional production of cellulose fibres is often only possible using strong chemicals. This is not the case with Ioncell; it does not use any harmful chemicals in the production process, but instead uses an environmentally friendly and recyclable solvent.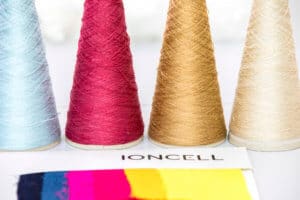 A birch fibre dress for the Finnish First Lady
If the fibre is made from recycled materials instead of being newly manufactured, it does not have to be bleached and dyed again. According to Kääriäinen, the colour of a blue T-shirt, for example, can be preserved through the use of the solvent and directly reused. Next year, the first production facility for the commercial manufacture of the fibre is scheduled to start operating. Ioncell has already landed a PR coup with its prototypes; last year Jenni Haukio, the First Lady of Finland, wore a birch fibre dress for the Independence Day celebrations. The fibres came from Ioncell's research laboratory.
A resource-conserving cotton fibre
Another promising company is Infinited Fiber, which has been on the market for a long time. In 2010, the breakthrough came with a process that allows waste paper to be processed in such a way that it can be used for further textile processing. Raw materials such as paper, cardboard, and textile waste are already being processed into a cotton-like fibre. Good to know: Infinited Fiber's denim fabric is already 100 percent in line with commercial quality requirements. The company's website shows that compared to conventional cotton production, up to 20,000 litres less water is needed per kilogram. The process is to be licensed and the license sold to textile manufacturers. The use of the material by designers will hopefully follow in the coming years.
Professor Kääriäinen estimates that up to eight research projects in the field of sustainable textile research are currently running at Aalto University alone. Some are already ready for the market. It is therefore worth keeping an eye on the Finnish textile industry.
This article was contributed by Mirjam Walser, co-founder of soon to be launched Faloa—the online shop for vegan, fair and sustainable fashion.