While plant-based burgers, sausages and meatballs have long dominated the alt-meat landscape, creating realistic steak from plants has always represented the highest, if seemingly unattainable goal, for many brands.
But thanks to fearless and relentless innovation, a host of shockingly meaty and juicy plant-based steaks have arrived on the US and Canadian market, and are rapidly coming to the fore. Here, vegconomist takes a look at the most noteworthy names bringing animal-free steak to mainstream consumers.
1. Beyond Meat
While not a fully structured filet, Beyond's "revolutionary" plant-based steak tips marked a major milestone for the company, which previously only offered ground-textured products like burgers and sausages. According to CEO Ethan Brown, Beyond Steak took five years of extensive R&D to develop. The product can be found in thousands of US retail locations, including Kroger, Walmart, Costco and Sam's Club.
"Beyond Steak is a highly-anticipated expansion of our popular beef platform and we're proud to introduce this innovative product to consumers nationwide," said Dariush Ajami, Chief Innovation Officer at Beyond Meat.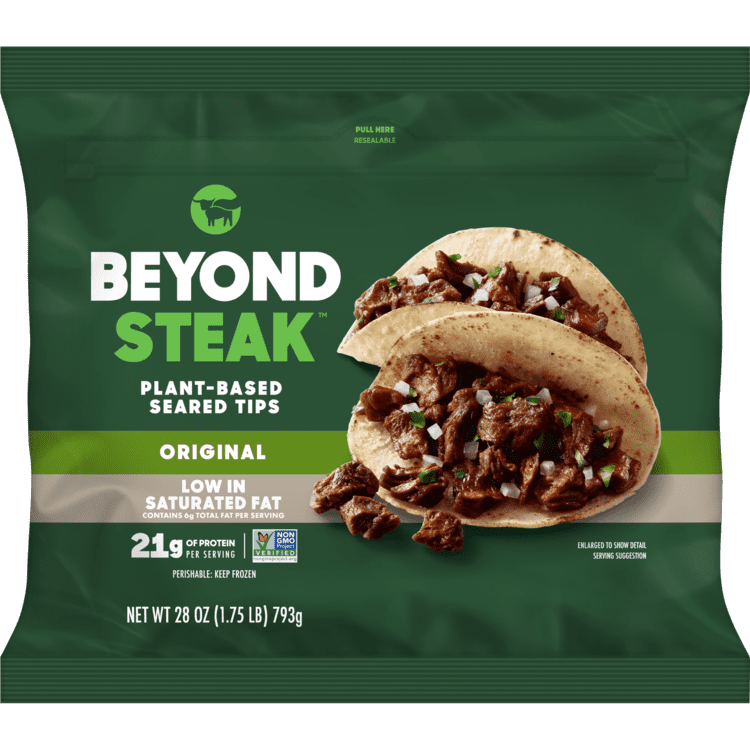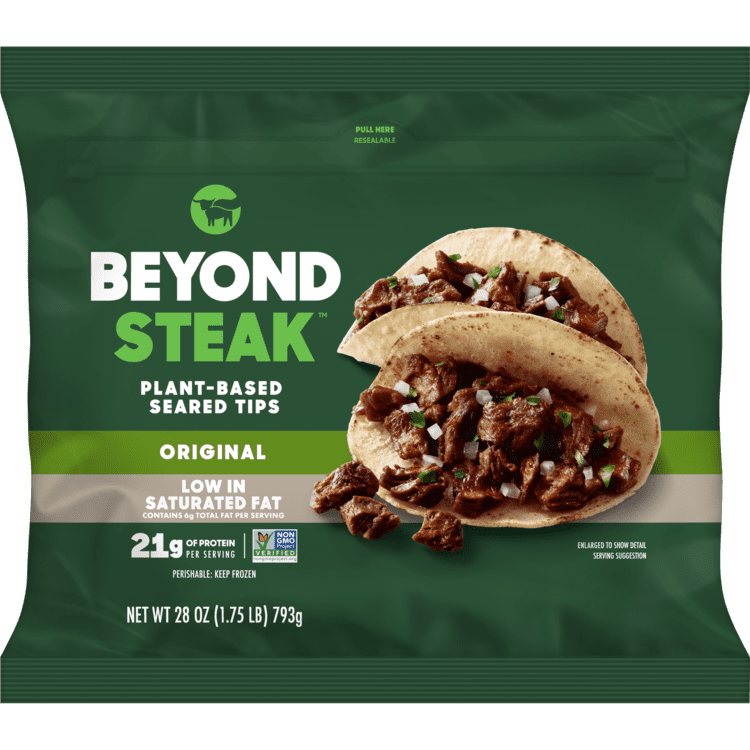 2. Meati
Based in Colorado, this mycelium startup is developing whole-cuts of animal-free meats, starting with steak and chicken. In January, Meati opened a massive production facility nicknamed "Mega Ranch" capable of producing millions of pounds of mycelium each year.
"We intend to be the final frontier of animal-free protein, creating a superfood protein category that will change the way people eat, ultimately improving the health of people and our planet," shared Meati CEO Tyler Huggins.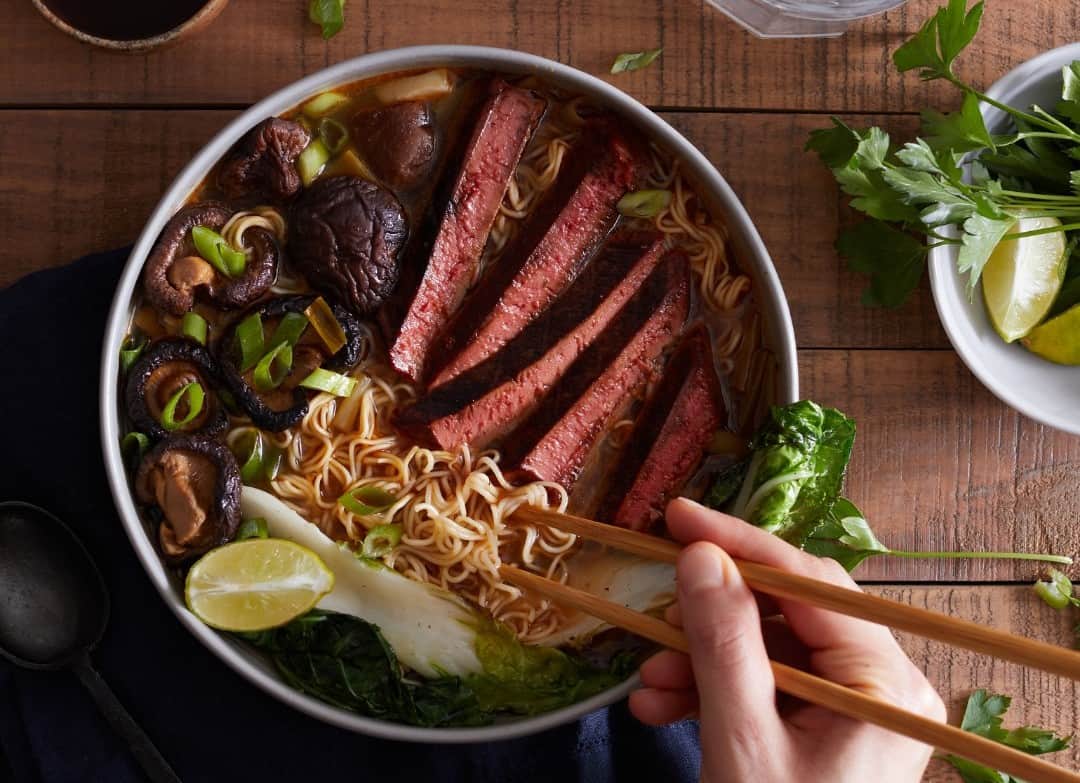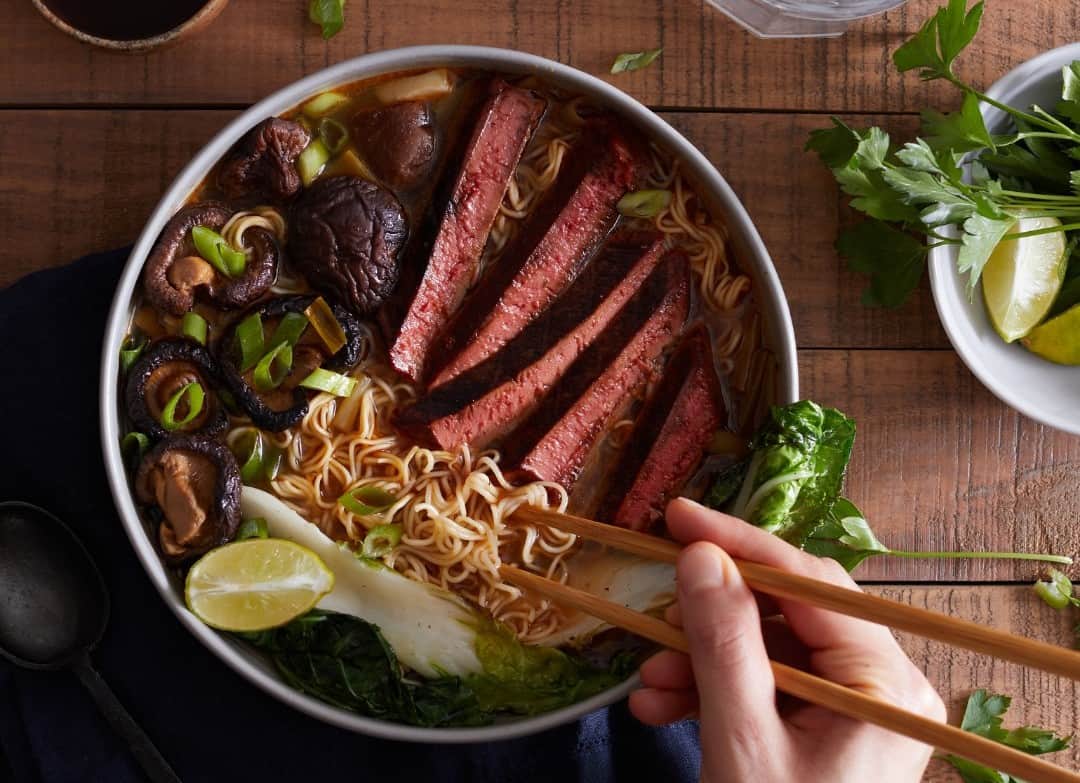 3. Juicy Marbles
In 2021, this startup from Slovenia took the internet by storm by launching the "world's first" plant-based filet mignon. Crafted from relatively simple ingredients like wheat and soy protein, Juicy Marbles' highly realistic line of raw steaks has made the brand a sell-out success throughout the US, UK and Europe.
Says Maj Hrovat, co-founder and CTO of Juicy Marbles: "What was important to us is that the process does not damage the nutritional profile of the product, ensuring customers get a wholesome, nutritious piece of meat with all the proteins, vitamins and minerals intact. We're delighted we've been able to achieve this with our filet mignon and can't wait to enable people across the world to enjoy this delicious plant-based steak."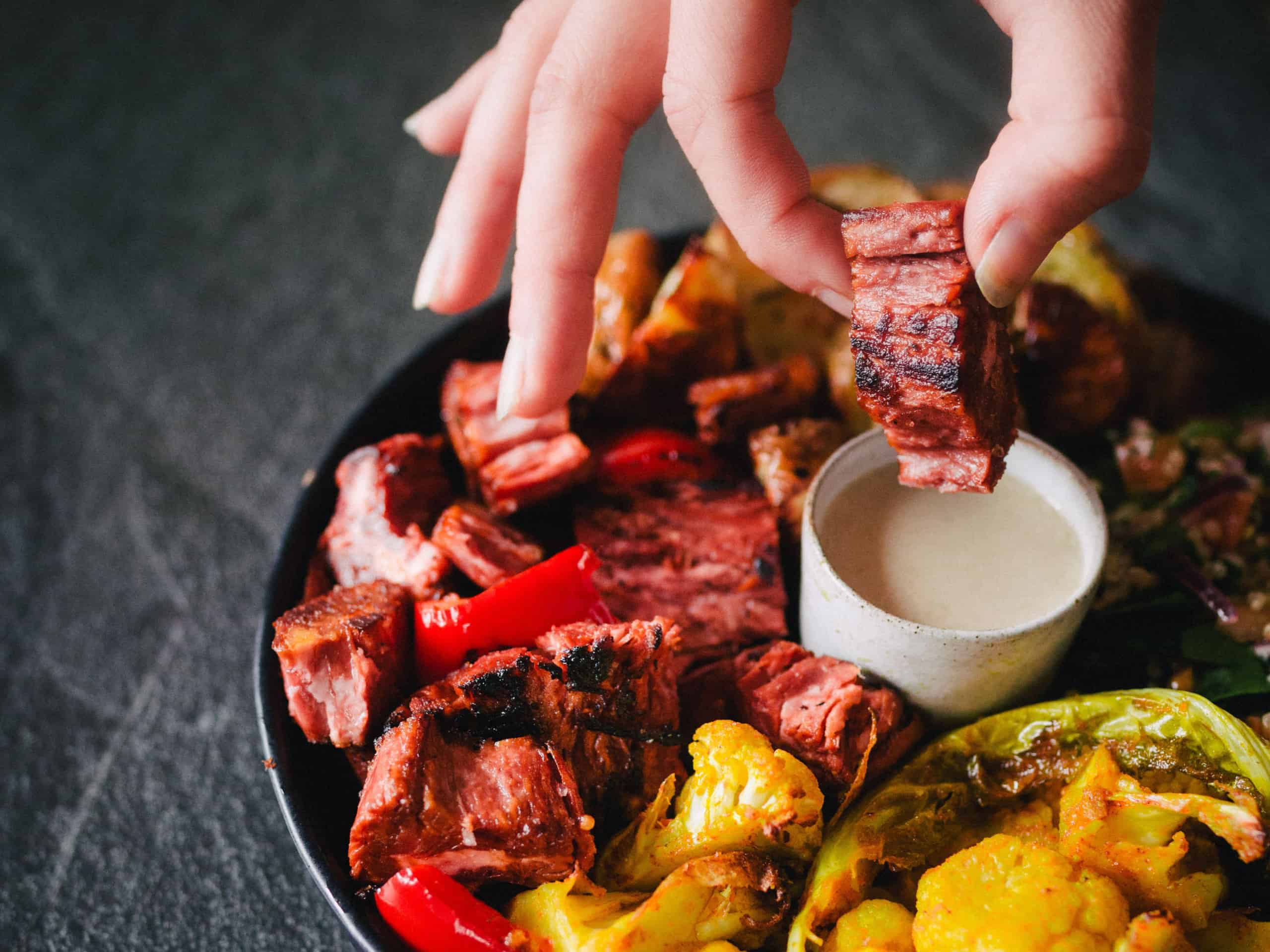 4. Nasoya
In March 2022, Nasoya released Plantspired ready-to-eat meals, including Korean BBQ Steak. Available at US retailers nationwide, the plant-based strips come char-grilled and are meant to pair with noodle and rice dishes. In October, the company reported the product's sales soared by 800% since its launch.
"Steak is one of the last categories to present a truly delicious plant-based alternative and we think we have cracked the code and have a product that will deliver in flavor, texture, nutrition and even price," said Ellen Kim, Director of Strategy and Marketing Communications at Nasoya.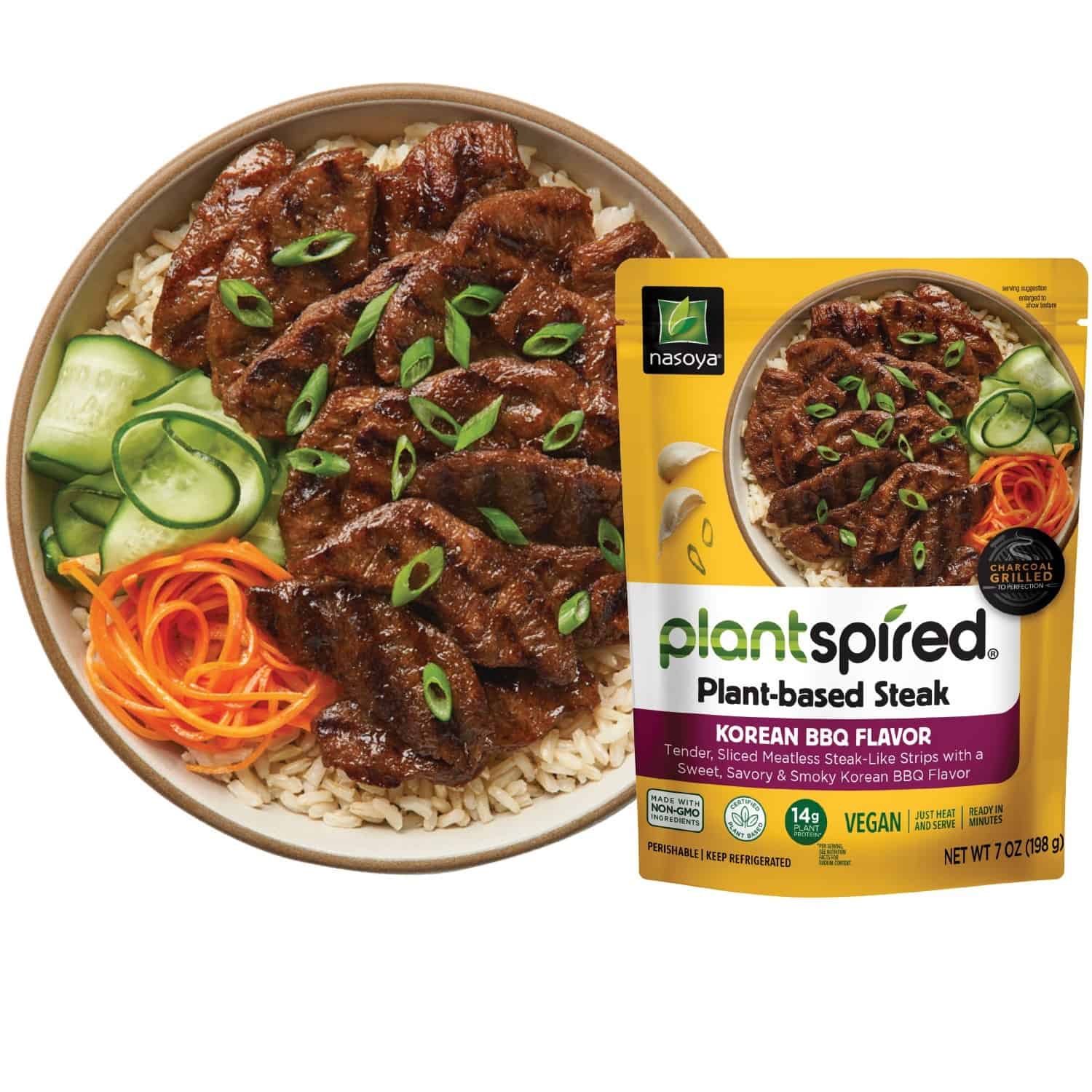 5. Chunk Foods
Based in Israel, this whole-cut alt-meat startup is currently piloting its plant-based steak in restaurants, including New York City's Coletta.
"Whole muscle cuts of beef such as sirloin, chuck or ribs have been the Holy Grail for alternative meats as they account for about 60% of the beef market in the USA," said Chunk Foods founder Amos Golan. "We have overcome the technological limitations of other approaches by naturally creating delicious and realistic products with many of the attributes of meat, while ensuring a clean and short ingredient list using our novel fermentation technology."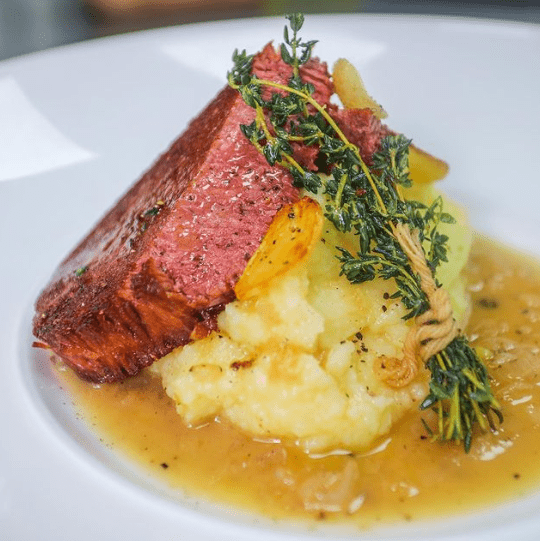 6. Better Meat Co.
Using a unique strain of Rhiza mycoprotein, Better Meat says it is able to naturally replicate the texture and flavor of virtually any meat-based product. Along with sliced turkey, hot dogs, and foie gras, the company has hinted it is working on animal-free steak:
"Simply through fermentation, we can create a whole-food, all-natural meat enhancer and meat replacer that is extremely beneficial for a variety of reasons, both economic and functional," said Better Meat CEO Paul Shapiro.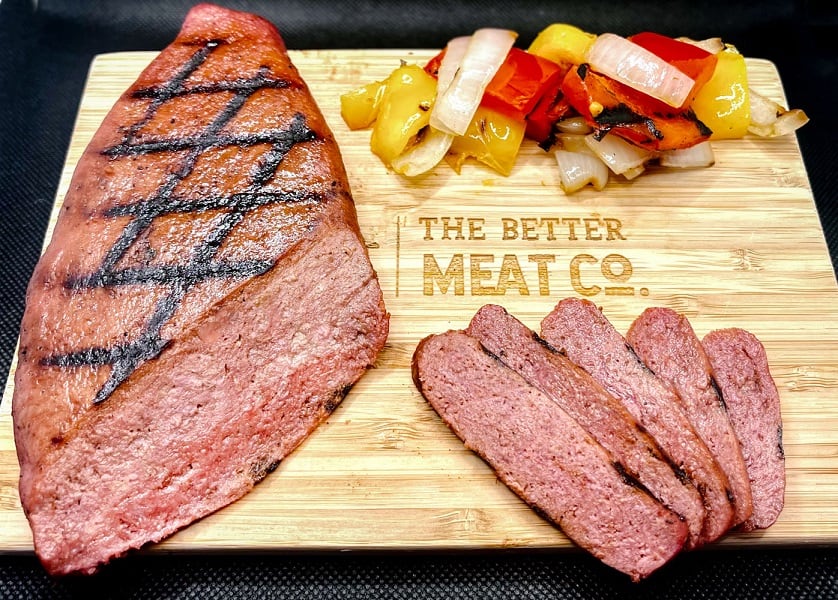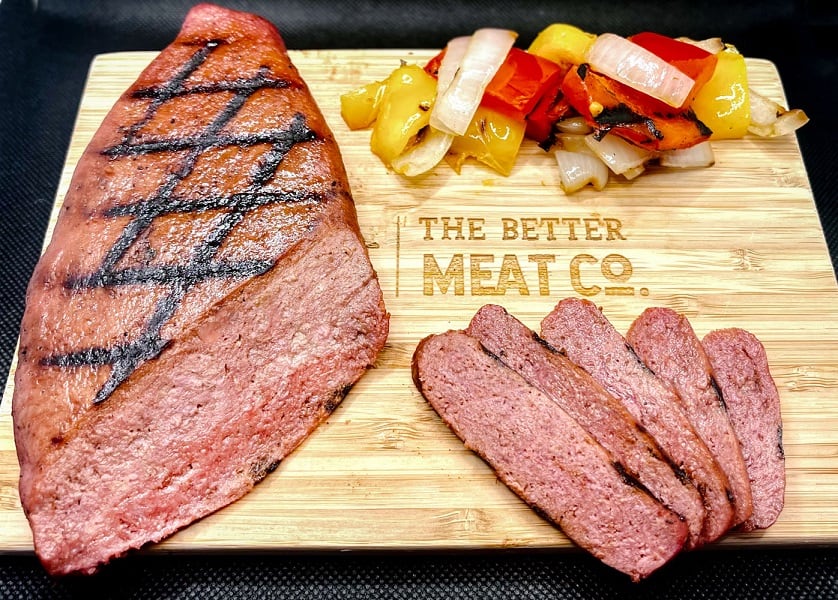 7. Wamame Foods
This Canadian brand burst onto the alt-protein scene in 2018 with Waygu – its plant-based take on Japanese Wagyu beef. In 2021, Wamame raised $7.6M to expand Waygu globally – and it has since launched into 7-Eleven Canada locations and online retailers like GTFO It's Vegan.
"Wamame's mission is to develop the best plant-based eating experience by meeting or exceeding the standards set by the most well-known animal protein brands on the planet, such as Japanese wagyu, Angus, etc. We have set this goal because we believe that alternative proteins must be of a higher quality than their animal-based counterparts in order to succeed," said Wamame president Blair Bullus in a vegconomist interview.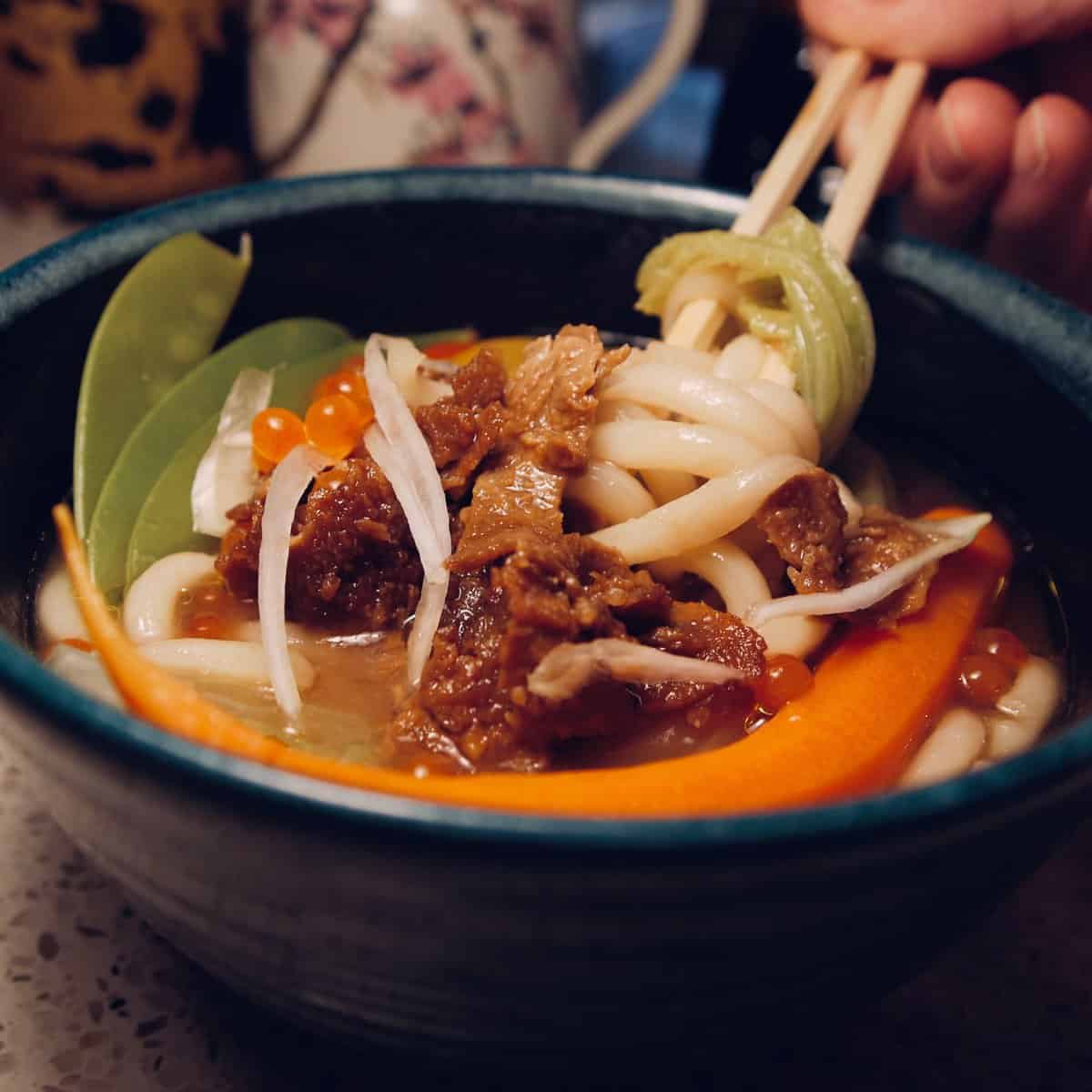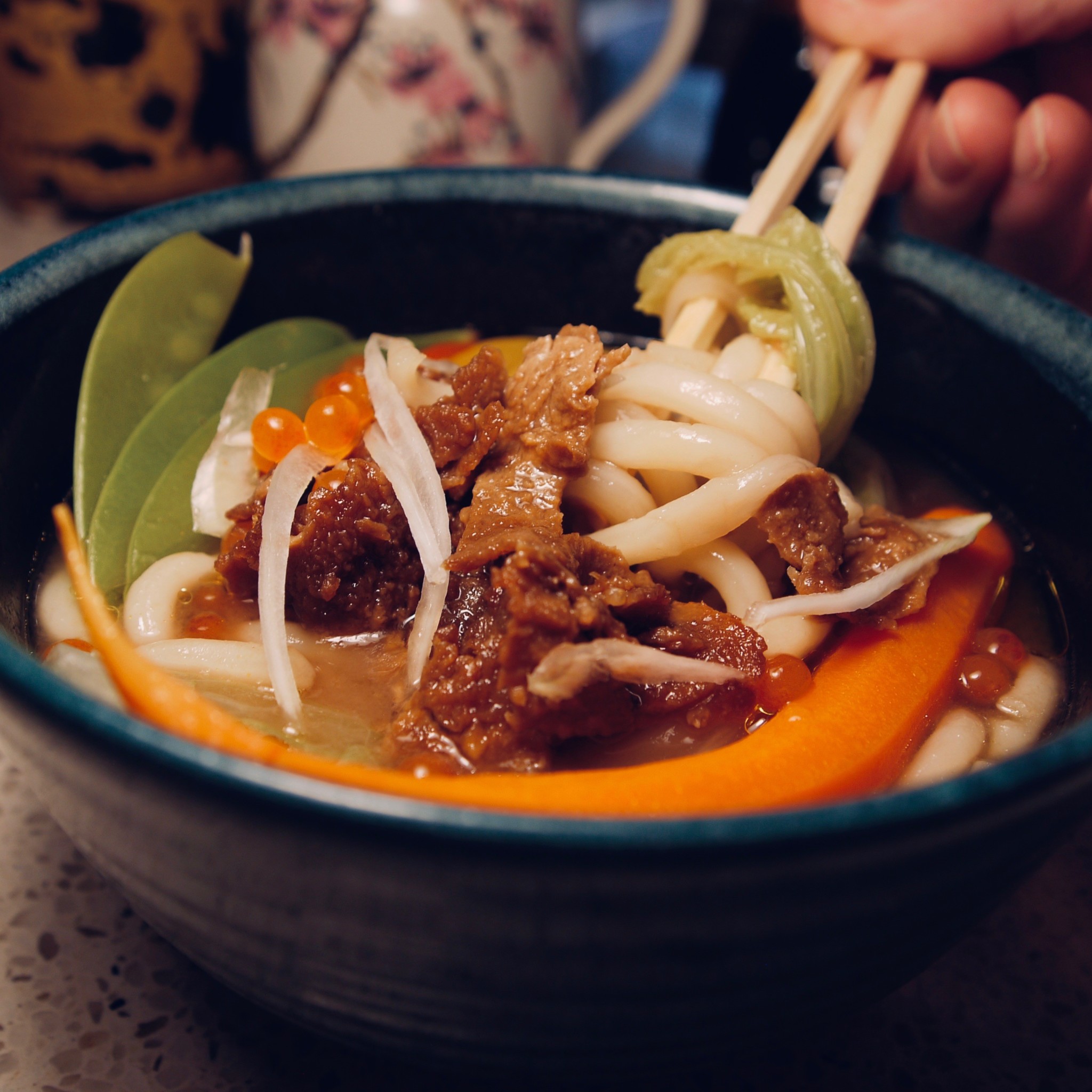 8. Unlimeat and Next Meat
Hailing from Korea and Japan, respectively, these startups are each developing specialty cuts of plant-based steak designed specifically for Asian cuisine.
Following huge success in South Korea, Unlimeat brought its award-winning line of thinly sliced beef, made from soy and pea protein, to the US in 2022.
"We plan to expand in the US market in earnest by securing a supply chain and logistics network mainly on the West Coast first. We want to provide more options to the American table through our Asian-style plant-based meat," said an Unlimeat representative.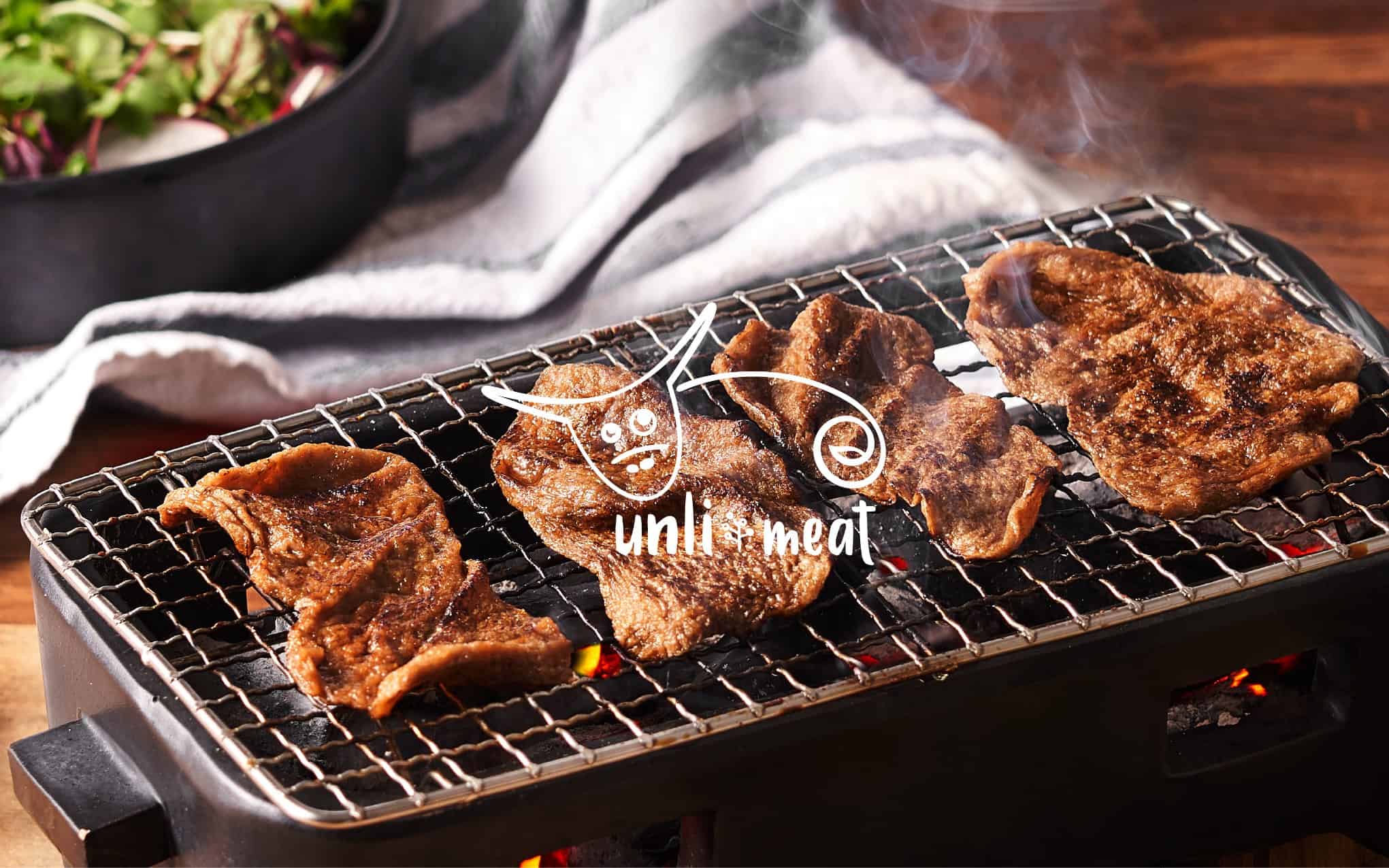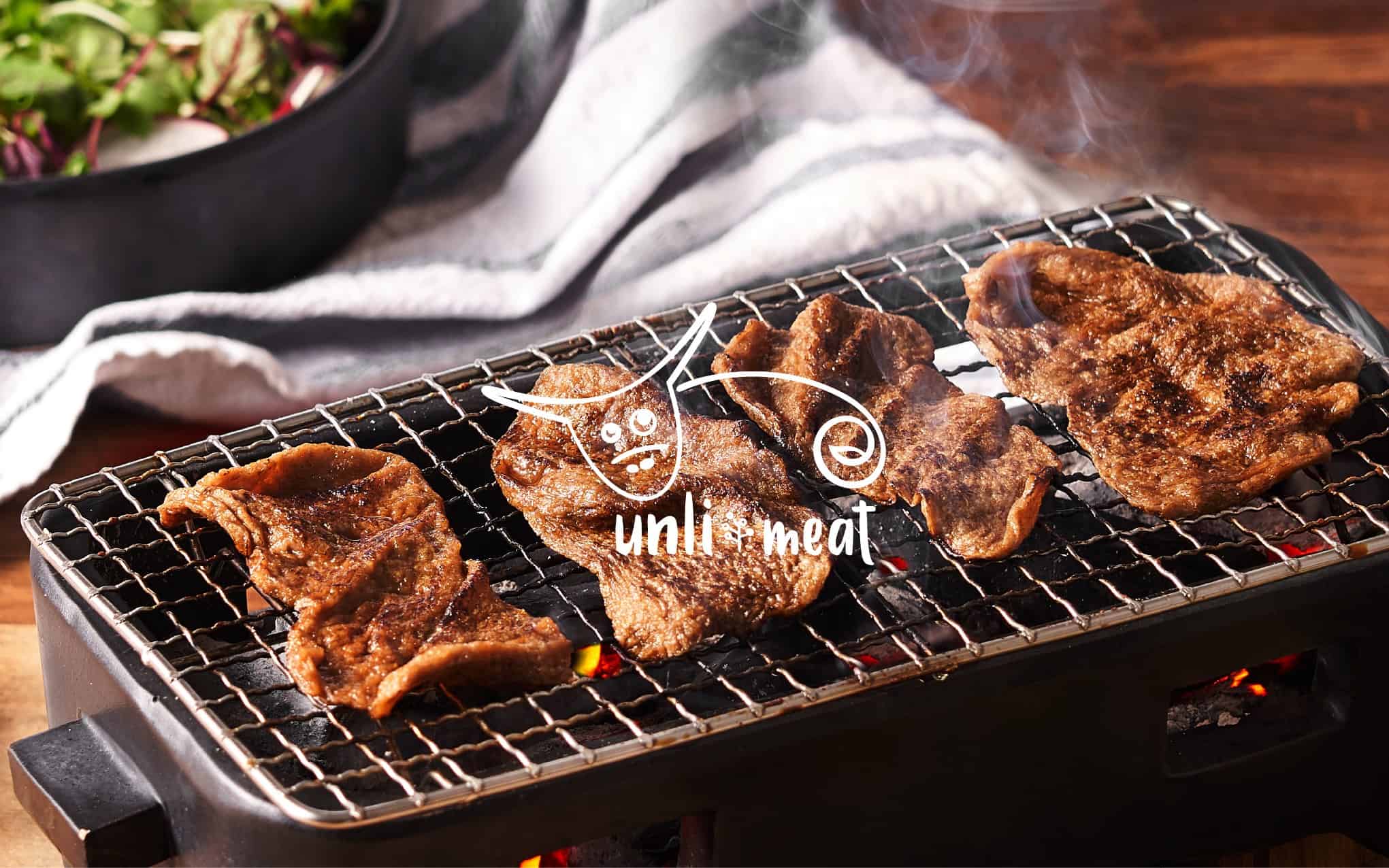 Next Meats offers a range of Japanese-style grilled meats such as short rib and skirt steak, using seasonings like soy sauce, garlic, salt, sesame oil and bean paste to achieve a realistic beef flavor.
Its products are currently available in Japan and North America. "Next Meats' healthy, plant-based products are a delicious addition to any diet and we are incredibly excited to begin this journey in North America," says Koki Terui, CEO of Next Meats USA.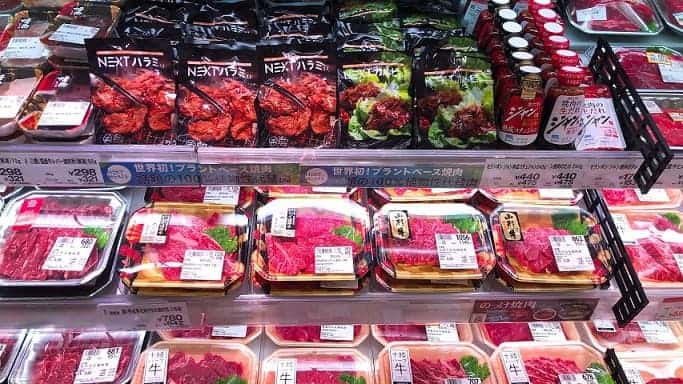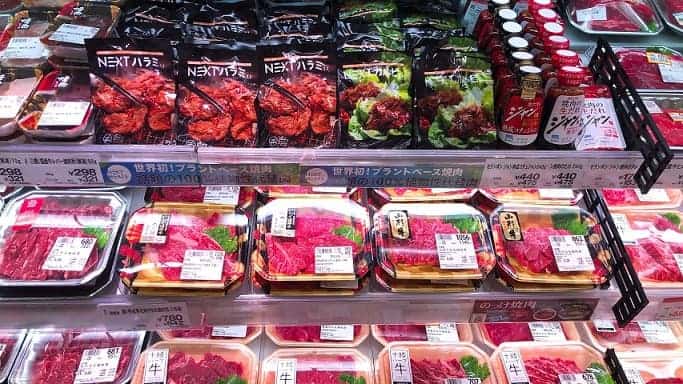 According to Future Market Insights, the global market for plant-based steaks is expected to be worth $1.1B by 2033. The US plant-based steak market was valued at an estimated US$ 168.5 M in 2022. As per the report, this regional market currently makes up around 30.2% of global sales of vegan steak products.