A press release sent to us from Upfield last week explained that Flora Buttery will no longer be vegan, with the reason cited being that a significant number of consumers missed the familiar taste of buttermilk in Flora Buttery. In the meantime, vegans in the UK have reacted angrily and are petitioning against the move.
Just 18 months after the company reformulated its entire range to contain 100% plant-based ingredients, 10% buttermilk has been added into Flora Buttery, apparently, to provide the familiar taste profile that many consumers have said that they prefer.
A petition was created to try and reverse this move, which generated nearly 5000 signatures in 12 hours.
The independent quotes one consumer's reaction: "What a backward decision. I work in a vegan cafe and we use huge tubs of your product. Vegans, lactose intolerant & non-vegans all loved it, there's no need to change the recipe. We're being urged to vastly reduce meat & dairy consumption, you take this step?"
Upfield has, perhaps by way of commiseration, launched the Flora Plant blocks of plant butter. The Flora Facebook page offers us this: "As part of our commitment to plant-based alternatives, we have also recently launched Flora Plant, salted and unsalted—our new vegan and dairy-free alternative to dairy butter. The new packs of Flora Original, Flora Light and Flora Plant, salted and unsalted, all include the Vegan Trademark and are certified dairy-free.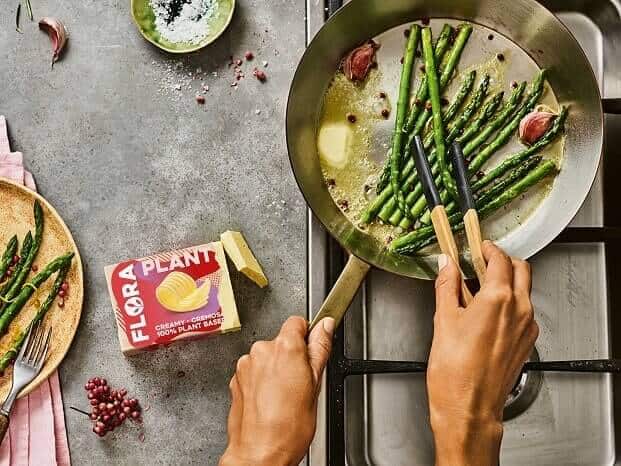 Willow Boyle, co-founder of vegan confectionary brand Mummy Meagz, commented: "Vegans are outraged by milk re-entering the list of Flora Buttery ingredients. And rightly so – the move is confusing for shoppers and shows poor faith in the vegan market from Upfield, which acquired the Flora brand in 2017 after it was purchased from Unilever by KKR. Upfield claims it is reintroducing milk to the Flora recipe because consumers prefer the taste profile.
"However, we know that with proper research and development, vegan products can be just as delicious as those containing dairy. It is disappointing that Upfield has not committed itself to perfecting a plant-based taste for Flora, especially as just a few months ago, it invested €50 million into a plant-based lab to develop vegan products. Upfield must now focus on communicating the change to shoppers, especially those with a dairy allergy or vegan lifestyle, in order to avoid further brand damage."