Sweden's DUG announces a new and improved recipe for its award-winning, vegan-friendly potato milk range — Original, Barista, and Unsweetened — "to make them even more appealing to those looking for an alternative to dairy."
Additionally, Veg of Lund, DUG's parent company, has announced that the European Patent Office notified its intent to approve the company's vegan potato emulsion patent, which gives the potato milk its distinctive creamy characteristics.
A patent for the European market
To date, Sweden, the UK, and Ireland are Veg of Lund's priority markets. Last year, DUG launched its potato milk in the UK at Waitrose and in Switzerland at Migros. The company has also announced plans for a production facility in Germany and also states it has production and distribution plans in Southeast Asia. The patent protection will cover 39 countries in the European market opening new expansion horizons for DUG's potato milk.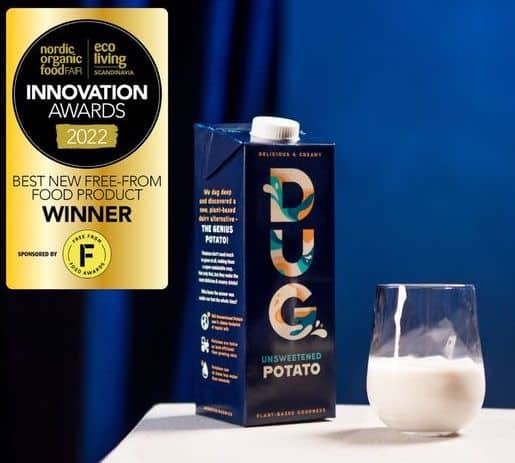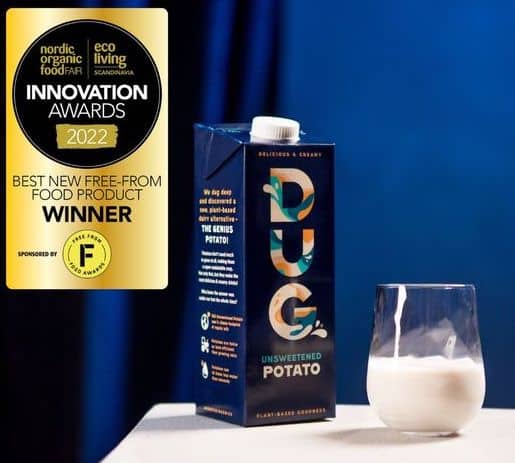 DUG's improved recipe
DUG's vegan milk combines potatoes, rapeseed oil, and additives such as chicory fibre and pea proteins. Its newly improved recipe offers a lower sugar content, is maltodextrin-free, and uses the company's patented potato-based emulsion, which "doesn't allow the potato milk to separate in hot drinks or when used in cooking and baking." The company also highlights the following:
A creamy and neutral taste profile

Milk-like consistency

High foaming capability

Low in saturated fat

Fortified with calcium, vitamins D & B12, riboflavin, and folic acid

Free from the top 14 most common allergens, including lactose, milk, soy, gluten, and nuts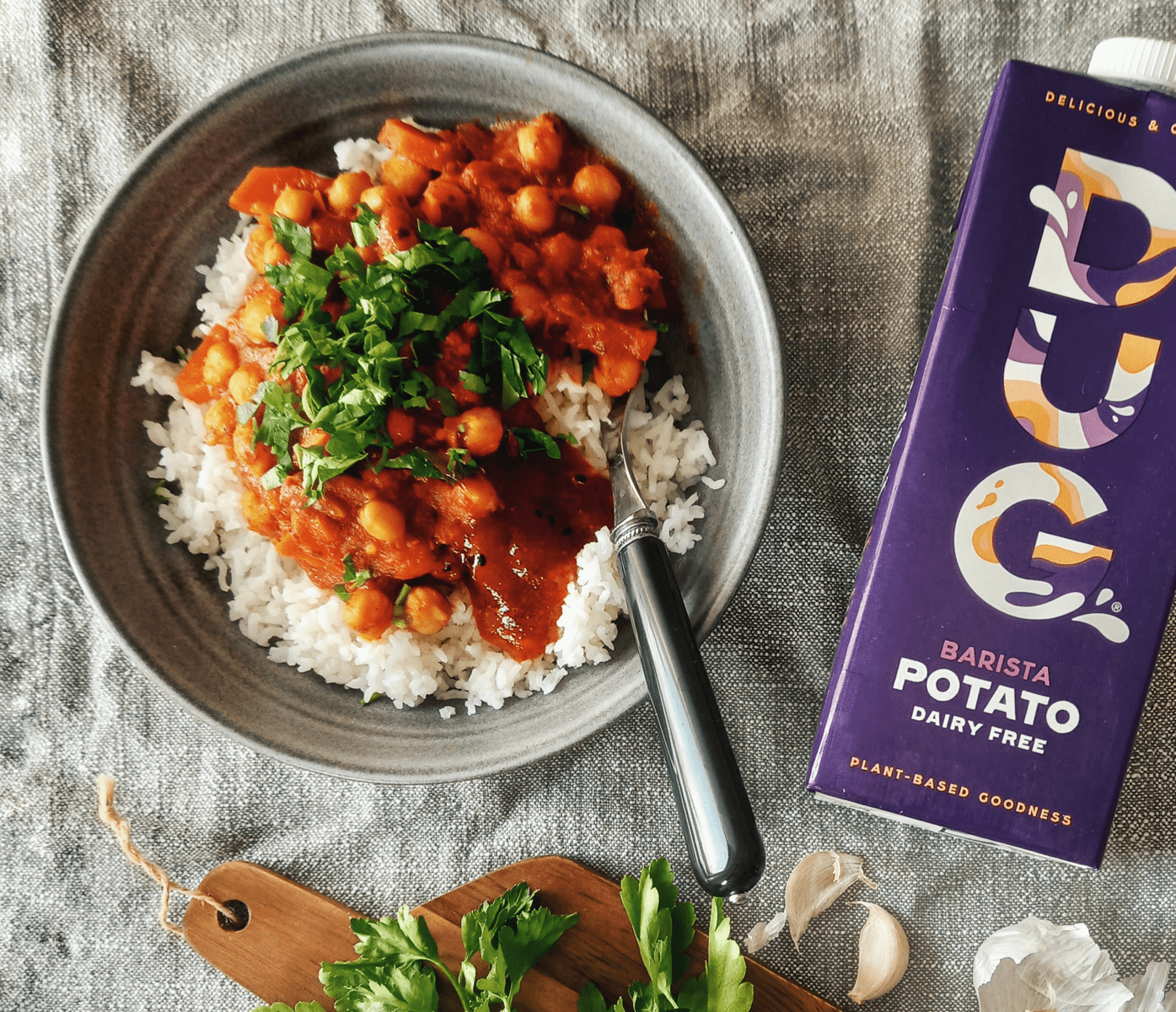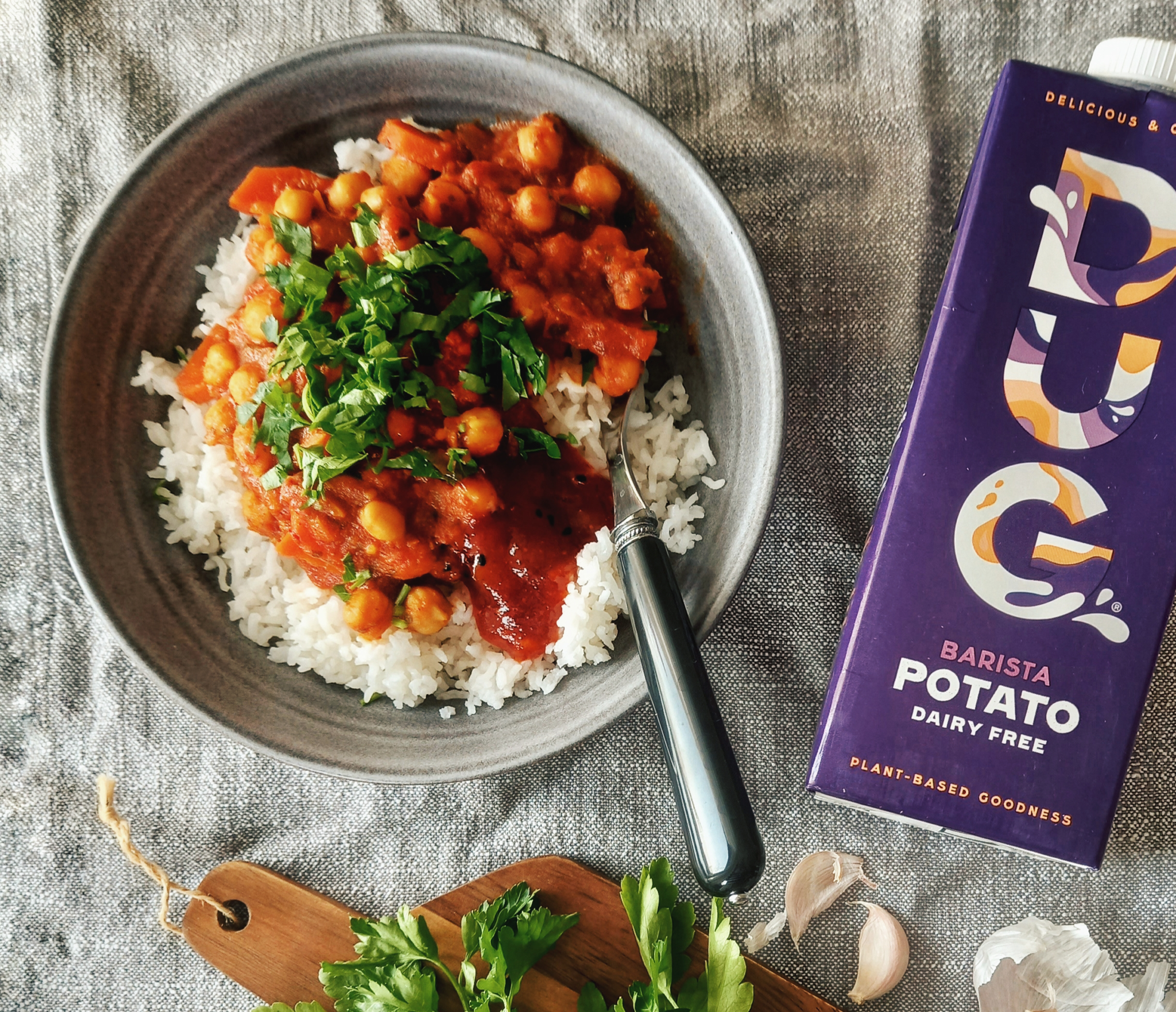 DUG's potato milk is planet friendly
DUG claims its potato milk is the most sustainable alternative on the market. According to the company, potatoes are a super-sustainable crop two times more land efficient than oats, with 98% less water use than almonds, rendering DUG's climate footprint two-thirds lower than cow's milk.
In an upcoming interview for vegconomist, the brand discusses its sustainability goals and expansion plans into other markets.
"Veganuary is upon us, and if you're wondering what m!lk to add to your coffee or cereal this January (and beyond, of course), look no further than DUG, the world's ONLY potato-powered plant-based m!lk, now with a new and improved recipe," says the company.
DUG is available DTC on the company's website, at Waitrose & Partners, Amazon, Ocado, Holland & Barrett, Whole Foods Market, The Vegan Kind Supermarket, and the Naturally Vegan Supermarket.