According to an article published this week by The New York Times, the plaintiff, Phillip Williams, filed a class-action lawsuit in the United States District Court for the Southern District of Florida against Burger King. He accused the fast-food chain of committing "false and misleading business practices" in the marketing and sale of its plant-based burgers. 
Williams' suit claims that Burger King failed to disclose that its Impossible Whoppers are cooked on the same grill as beef products. It also notes that vegans would not purchase the plant-based patty if they knew it contained meat byproducts due to the cooking methods. 
The Impossible Whopper was launched nationwide in August and advertised the burger as "100% Whopper, 0% beef."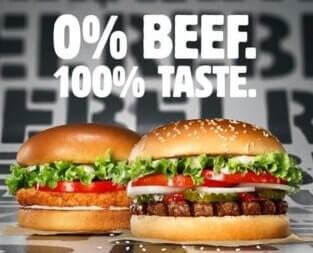 The plaintiff in the case, who practices a strict vegan lifestyle, bought an Impossible Whopper at a drive-through in Atlanta on or around August 2019, according to court documents. The complaint stated that he was "duped by Burger King's deceptive practices into eating a meat-free Whopper Patty that was, in fact, covered in meat byproducts."
The complaint calls on the fast-food chain to return all the profits it had gained from selling the meat-free alternative, including the money that Mr. Williams paid. Burger King declined to discuss the matter because they do not comment on pending litigation.
We will continue to publish updates on this case as they become available.