BurgerIM has announced the addition of the Impossible Burger to its permanent menu. In celebration of the plant-based pattie's debut, it will offer a complimentary burger to guests on Black Friday.
"We were founded on the idea of 'Burgers for Everyone' because nobody should have to miss out on enjoying a juicy burger no matter their dietary restrictions or lifestyle choices, and adding Impossible Burger to our menu takes that promise one step further," said Oded Talmor, CEO of BurgerIM. "We are excited to celebrate the arrival of the Impossible Burger to BurgerIM and invite busy shoppers into our restaurants on Black Friday to experience our new Impossible Burger on the house!"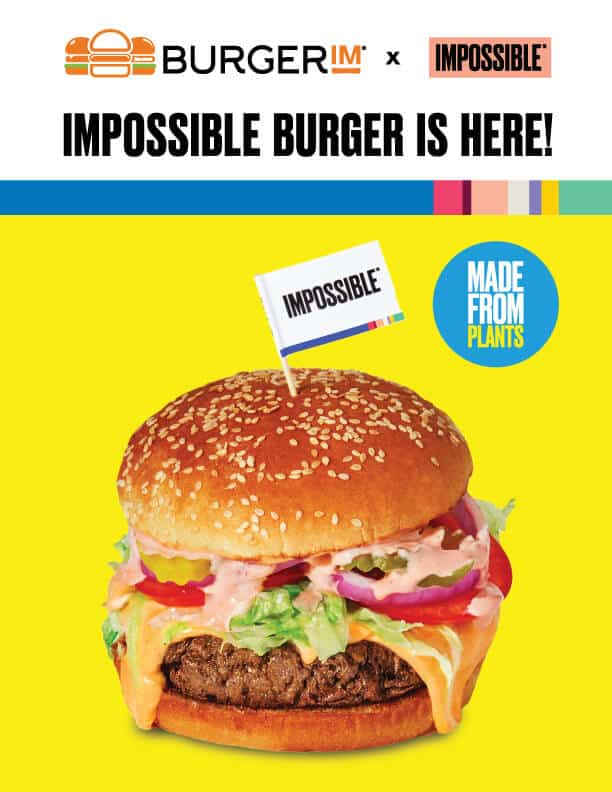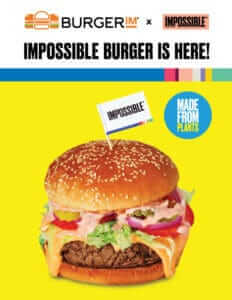 Talmor continued, "We're proud to offer an unparalleled variety in fast-casual burgers and to be a place that guests can count on for an amazing burger that doesn't compromise on any of their personal needs or choices. We're confident the Impossible Burger will do very well at BurgerIM."
BurgerIM is an Israeli global gourmet fast-food hamburger franchise currently based in Encino, California. It is the fastest-growing burger franchise in the US. It offers twelve different patties that include two plant-based options, falafel, and Impossible Burger, plus a variety of toppings. Many locations also carry wine and beer on tap served in an upscale sports-bar-like atmosphere that features big-screen TVs and a u-shaped bar. 
The free burger is valid on Friday, November 29 only at 212 participating locations across the US. Guests who purchase any Big BurgerIM are eligible to receive one free Impossible Burger while supplies last. The promotion is limited to two free Impossible Burgers per transaction.