Multinational food corporation Danone, which recently invested in plantbased yogurt producer Halsa Foods in Sweden, has been publically making a lot of noise about sustainability and how it wants to cause a food revolution.  The French corporation intends to triple the size of its plantbased business before 2025.
Earlier this spring, Danone added plantbased produts to its successful Activia and Actimel lines. In February, it expanded its US production facility, thus creating the largest plantbased yogurt factory, and in June Chief Executive Officer Emmanuel Faber predicted that the coming decade will see consumers consistently moving towards plantbased products.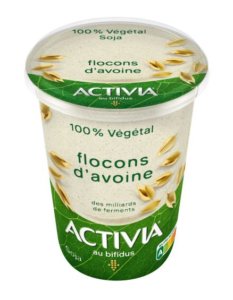 According to Just Food, Danone will use its well-known brands to push plantbased yogurt alternatives. Activia 100% Vegetal yogurts, made with soy and oatmeal, are currently being rolled out in France, Germany, Spain, Italy, Czech Republic and Austria with other markets to follow.
Francisco Camacho of Danone said to Just Food, "We are excited about the potential of the plant-based category and we are positioned very well to capitalise on consumer trends," adding that there is opportunity through existing brands like Alpro and Silk to offer plantbased to the consumer, adding that, "Activia has a broad base of consumers and that strengthens the plant-based universe but at the same time it will evidently strengthen Activia."
"More and more consumers are adopting the flexitarian diet and for a brand like Activia there is a demand for plant-based versions," he said. "The assumption is that household penetration of plant-based yogurt etc will continue to benefit from strong growth."