Singapore's Float Foods has launched what it claims is the first plant-based tamagoyaki (Japanese-style omelette) in Asia.
The OnlyEg Tamagoyaki will be showcased for the first time at Food & Hotel Asia 2022 (FHA), a gathering of leading F&B manufacturers and emerging brands which will take place on September 6. The product will be presented and served by OnlyEg's Chef Martin and a team from restaurant chain Poke Theory.
Product range
The plant-based tamagoyaki is the fourth product in the OnlyEg range, which also features shreds, patties, and XL omelettes. According to Float Foods, the products contain as much protein as conventional eggs and are rich in fibre.
The OnlyEg range initially launched for foodservice in June, and has since seen huge demand. The egg alternatives are already in use by 20 outlets, with hundreds more partnerships in the pipeline. Among them is Poke Theory, which is set to launch a Caramelised Onion & Black Vinegar Tamago bowl.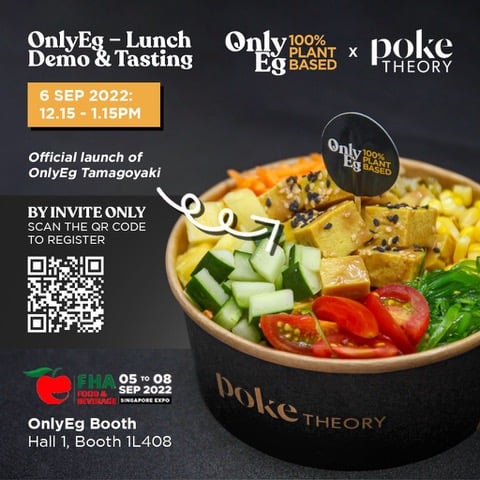 Plant-based innovation
In June 2021, Float closed an oversubscribed $1.6 million seed funding round to help accelerate commercialisation of its flagship whole egg substitutes. By February of this year, the products were ready to launch.
Then, just a few months later, Float Foods was awarded 'Best Health or Wellness Food' at the World Food Innovation Awards for its plant-based OnlyEg White formulation. The company beat out competition including ALDI and Heura to take the prize.
"There is still so much potential to build on OnlyEg's technology to innovate and develop a larger ecosystem of plant-based foods that can truly cater to the Asian diet in every way and be witnessed by Singapore's future food plans. We are confident that the strides we've made will place us in a prime position to lead this plant-based food revolution in Asia," said Float Foods CEO and Founder Vinita Choolani.