According to NOSH, GOOD PLANeT Foods is launching a Plant-Based Frozen Pizza featuring its own plant-based cheese plus Beyond Meat sausage, which has just been launched into retail. The Plant-Based Sausage Pizza will be available this spring at major retailers across the US.
In launching its new frozen pizza, GOOD PLANeT is furthering its mission to "do good and be good for consumers and the planet." This philosophy pairs well with Beyond Meat's goal to shift from animal to plant-based meat to address human health, climate change, constraints on natural resources, and animal welfare.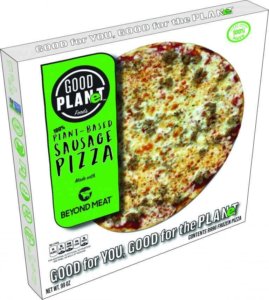 The new product offering is plant-based, kosher, halal, gluten-free, and Non-GMO Project Verified. It is free from the top eight major food allergens and provides a comparable alternative to traditional frozen pizza.
"We're proud to be able to introduce our new Plant-Based Frozen Pizza with ingredients we can really stand behind, including our own plant-based cheese and Beyond Meat," says David Israel, CEO of GOOD PLANeT Foods. "Not only does our newest offering bring plant-based pizza lovers an alternative with exceptional flavor and absolutely no compromise, but it also delivers a truly delicious way to experience pizza…with ingredients that are environmentally and health-conscious."