European brand iglo, owned by Nomad Foods, has received PETA Germany's Best Vegan Product award for its Pulled BBQ Stripes.
For its 2020 awards, PETA Germany evaluated several products based on their sustainability, accessibility, and animal-friendliness. Made from European pea protein, iglo's products rate highly in terms of sustainability. They have a low carbon footprint and don't require much water to produce. The products are also free from yeast extract, common allergens such as wheat and soya, and artificial flavours and preservatives.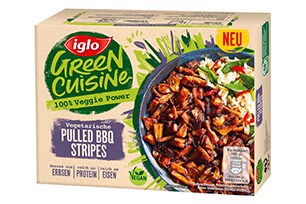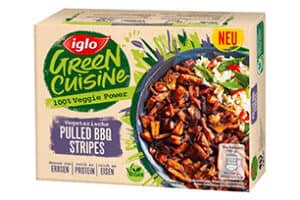 Iglo launched its plant-based Green Cuisine range in January, starting out with nine products. They are made to simple recipes with minimal ingredients and are easy to prepare. Most of them are produced regionally, near iglo's vegetable plant in Germany.
All nine products use pea protein. The market for pea protein-based products has experienced rapid growth in recent years, with customers seeking an alternative to soya due to allergens or concerns about sustainability and GMOs. Iglo joins other major brands such as Beyond Meat in choosing pea protein for its meat-free products.
"We are proud that as a trusted brand we can take a pioneering position with Green Cuisine and encourage more and more flexitarians to eat less meat," says Antje Schubert, Managing Director of iglo in Western Europe.