Impossible Foods has announced its latest national restaurant partner, The Halal Shack. Impossible Foods' ingredients and manufacturing practices are halal-compliant and adhere to Islamic dietary laws. The plant-based burger company received its certification from the Islamic Food and Nutrition Council of America in December 2018. 
The chain offers Afghan street food-inspired Mediterranean and Middle Eastern flavors with a classic American twist. The Impossible Burger meat will be available as a filling for any menu item and can be added to Bowls, gyros, Wraps, and Salads. In addition to its halal-only menu, the restaurant offers locally-sourced ingredients, health-conscious, plant-based and vegetarian options.
The Halal Shack has eight locations throughout New York, California, and Texas with plans to open 25 to 50 more stores in the next five years. Its current locations include college campuses, airports, and nontraditional retail spaces. The Halal Shack was recently named as one of QSR Magazine's "Top 40 Hottest Startup" fast-casual restaurants.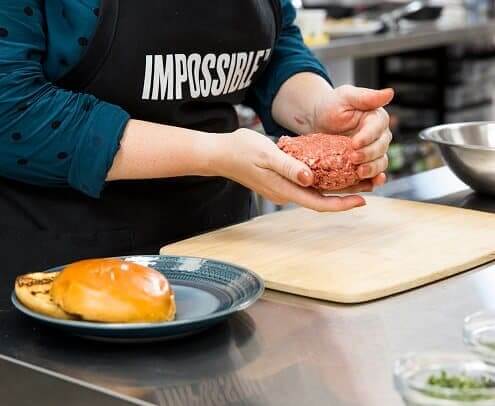 "The Halal Shack builds quality partnerships that align with our mission to unite cultures and people through food," says Jamal Rasoully, Founder & CEO of The Halal Shack. "Our partnership with Impossible Foods marks an important milestone in our mission as we continue to expand."
The goal of Impossible Foods is to make plant-based meat available to everyone around the world, including those who have religious dietary restrictions. The worldwide Muslim population is approximately 1.9 billion and is the third-largest religious group in the US.