Impossible Foods is reportedly developing a fishless fish product, to follow the success of its Impossible Burger, which is currently the number one selling item on GrubHub across the USA during the late night time period. Impossible CEO Patrick Brown is branching out to plantbased fish as part of his mission to replace every animal-based food on the market by 2035.
Speaking to the New York Times, Brown referred to the depletion of fish populations "an ongoing meltdown" which political leaders are not motivated to prevent. "With respect to the urgency of the environmental impact, fish are second to cows, followed by other animals […] That's how I view it, and that factors into how we think about priority."
According to the article, Impossible has so far focused on creating the flavour of fish using the famous heme ingredient, which contributes the meat flavour to the Impossible Burgers and which caused initial controversy and issues with the FDA. The R & D team has developed a plantbased broth with the flavour of anchovies, which can be used to make paella and caesar dressings.
Brown said that he recognises that consumers are not currently "crying out for" plantbased fish products, but said this would change if there existed a product that tasted sufficiently realistic, adding that neither were consumers crying out for a plantbased beef until it became available.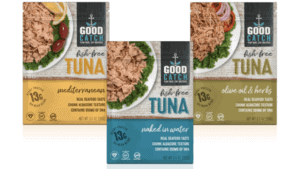 At present there are a handful of producers successfully developing plantbased and cultured seafood products. Today we reported that Ocean Hugger's hugely successful tuna and eel products are soon to be available in Europe. Loma Linda's packaged tuna product, TUNO, is now available across North America and Europe, and Good Catch have been producing plantbased seafood since last year. BlueNalu and Shiok Meats are examples of the startups working to create cultured seafood products in laboratories.
It is yet to be revealed how Impossible's fish product would boast a USP differentiating it from the rest of the market. Brown commented that the only way his company can "succeed is to make fish from plants that is more delicious than the fish that's strip mined from the ocean."