Last month, we reported that Impossible Foods products had been approved by the FDA for retail. Impossible now announces that the retail launch will take place on the 20th September, with the famous Impossible Burger to be available in stores throughout the US.
Impossible states on its website, "In August, we announced a co-manufacturing collaboration with global food provider OSI Group, which will allow us to significantly increase our production by the end of the year. Meanwhile, the Impossible™ Whopper launched nationally, which means you can now find it at over 7,000 Burger King restaurants in the U.S. Wired also gave their take on processed foods, including plant-based meat."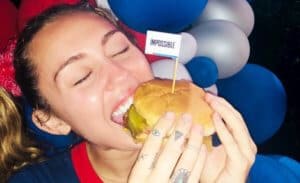 The supply agreement with the OSI Group was sealed in order to secure supply for the enormous and apparently unexpected demand which saw stocks running out in every outlet. OSI is a privately-held firm which has been supplying McDonald's with meat patties for around 60 years and has 65 facilities in 17 countries. The deal will ensure that Impossible can keep up with production in order to compete with Beyond Meat, and can maintain stocks in its 10,000 locations around the world.
Earlier this year, Impossible Foods received around $300 million in financing from investors, including Khosla Ventures, Bill Gates, Google Ventures, Horizons Ventures, amongst others.