Reuters reports Monday that Yum China's KFC will sell plant-based fried chicken, produced by Cargill Ltd, for a trial period between April 28-30. The move, which closely follows the announcement that Starbucks China will introduce Beyond Meat into the country, will be the first time KFC China has sold a plant-based product.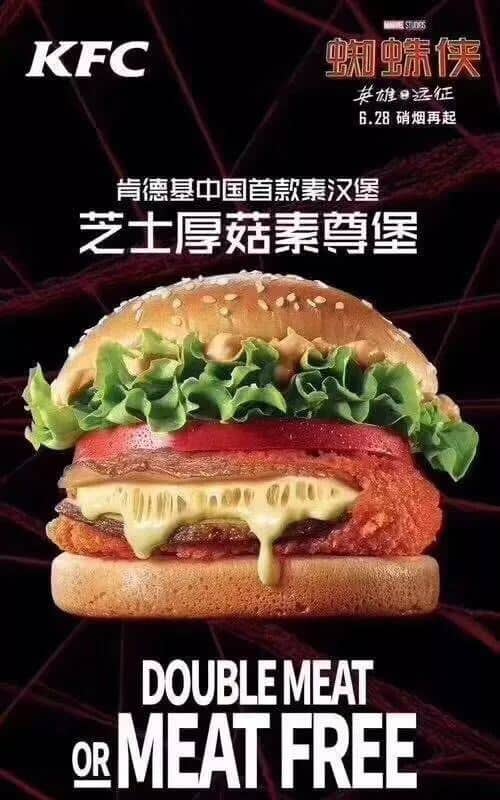 As we reported last July, KFC launched a (vegetarian) Meatless Burger made based on portobello mushrooms, but this will be the chain's debut plant-based chicken product, which is set to trial in three locations in Shanghai, Guangzhou and Shenzhen. The Weibo account states that customers must purchase a pre-sale coupon for a serving of five chicken pieces which will sell for 1.99 yuan.
Whereas the American plant-based KFC option, which famously sold out within hours of its launch last year, was produced by Beyond Meat, this trial in China will see the vegan (it is yet to be seen as to whether the product will be fully vegan or cooked together with meat products) produced by Cargill Ltd.
Cargill's strategy continues
Cargill announced plans this February to launch a range of plant-based burgers and ground products which are set to launch this month, in a bid to compete with Beyond Meat and Impossible Foods in both retail and foodservice. Last July the company invested US$200 million to convert its German processing facilities from corn to wheat, and in the following September it invested $75 million in PURIS, the largest North American producer of pea protein.
Speaking to vegconomist in October, Cargill's Texturizers and Specialty Lead, Laurie Koenig said, "As we look ahead, we expect to continue to partner with PURIS to bring these great tasting, sustainable, and label-friendly pea protein ingredients to customers in North America and across the world."