Ice cream is known to be high in sugar and fat and generally an extremely unhealthy treat. Perfect World Ice Cream is set out to change this and have created ice cream that is not only less unhealthy, but actually nutritious and beneficial for your health.
Their ice cream is created using a blend of nuts and coconut milk and sweetened using plant-based sweeteners such as stevia. They are low on calories, saturated fat and salt and high in dietary fibre. Perfect World Ice Cream is dairy-free, soy-free, gluten-free, palm-oil free and fortified with 12 vitamins and minerals – Chromium, Manganese, Copper, Zinc and B1, B2, B3, B5, B7, B12, D and E vitamins – in such amount that a full tub will provide 100% of your daily requirement.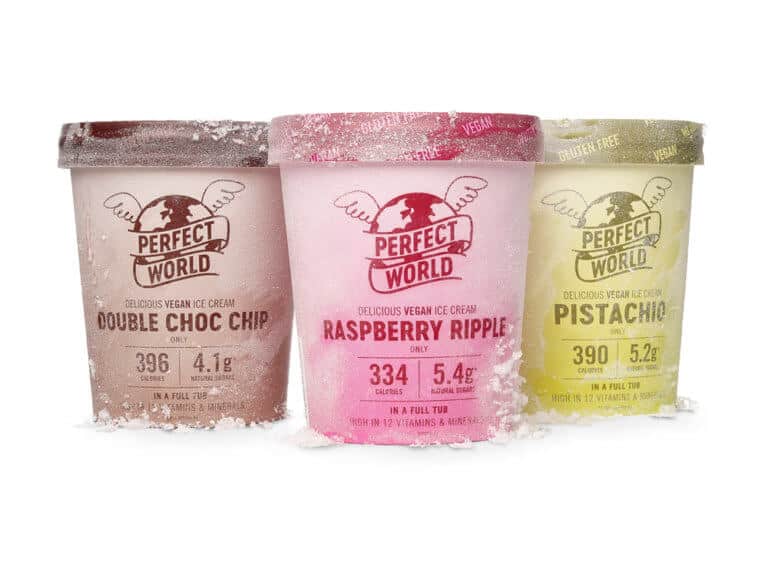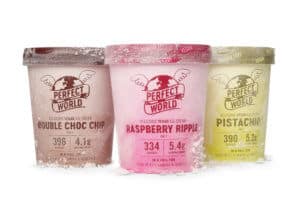 "Choosing a healthy balanced diet is one of the most important things you can do to invest in your health but unfortunately in the UK, surveys like the National Diet and Nutrition Survey (NDNS), reveal that many of us are still eating way too much saturated fat and sugar, while our diet is short in fibre and key vitamins and minerals. Ice cream has always been a naughty-but-nice treat … until now. Opt for brands such as Perfect World ice cream, which contains no added sugar, dairy, gluten or soy. It has less saturated fat and fewer calories than most other brands, is a vegan option and also high in fibre and 12 vitamins and minerals – who knew healthy could taste so good!" Fiona Hunter, BSc (Hons) Nutrition.
There are currently six varieties available: Double Choc Chip, Caramel Pecan, Pistachio, Raspberry Ripple, Mind Choc Chip and Sweet Espresso. Perfect World Ice Cream is available in the UK in Tesco stores and online on Ocado, and in Jumbo Supermarkets in the Netherlands.