The New P.L.T burger – which stands for plant, lettuce and tomato – has been made for McDonald's by Beyond Meat and will be available in 28 locations in Southwestern Ontario for a 12 week trial period from next Monday, September 30.
Following the success of Impossible Foods' Burger King entrance with the Impossible Whopper, McDonalds has announced the vegan P.L.T. – describing it as a "plant-based burger on a warm, soft, sesame seed bun with the iconic McDonald's taste customers have come to love from McDonald's." The product comes with the pricetag of $6.49 CAD plus tax which is more than three times the cost of a regular burger.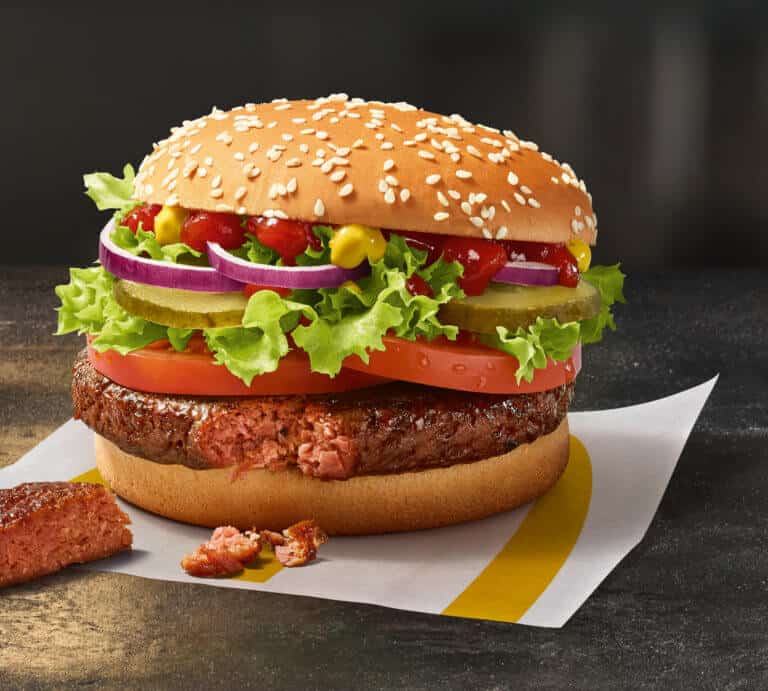 "McDonald's has a proud legacy of fun, delicious and craveable food—and now, we're extending that to a test of a juicy, plant-based burger," said Ann Wahlgren, McDonald's Vice President of Global Menu Strategy. "We've been working on our recipe and now we're ready to hear feedback from our customers."
When Impossible Foods launched into Burger King, it was initially trialed for a period in St Louis from the 1st April this year. On the 30th of the same month, the company announced that the trial had been so successful that Impossible Whopper would be rolled out nationally. In June, it was revealed that BK had seen a 18.5% increase in traffic since the launch, and by August the product was available in all US Burger King locations.
Clearly, McDonalds has been following the Impossible / BK story and is adopting the same strategy. The trial will take place in Canada and it seems inevitable that the rest of North America will follow.
"During this test, we're excited to hear what customers love about the P.L.T. to help our global markets better understand what's best for their customers," said Wahlgren. "This test allows us to learn more about real-world implications of serving the P.L.T., including customer demand and impact on restaurant operations."